The Beyond Rugby Bermuda partnership with the Family Center and BRFU continues weekly with the boys and girls at Cedarbridge and Dellwood. The partnership was initiated by former World Wrestling Entertainment stalwart John Layfield.
He was once known by his WWE ring names of LBJ and Bradshaw, before Bermuda became his second home and "favourite place in the world". Layfield is more than a coach to these school boys — mentor would actually be a better word. He spends after school time with them helping them with their homework and trying to instill values in them so they don't become a negative statistic.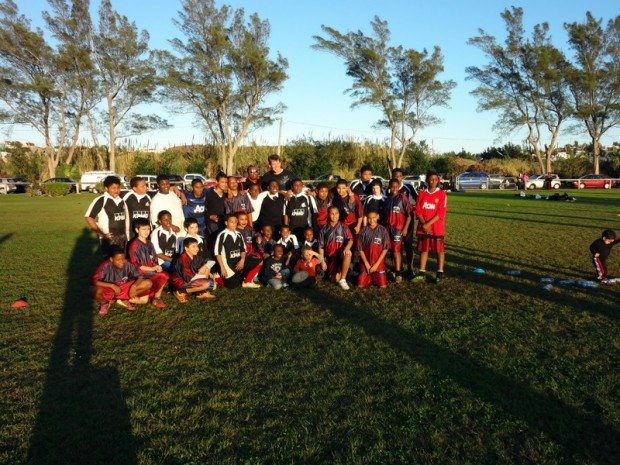 The program is a holistic program emphasizing academics, leadership, values and includes a homework academy at the schools, followed by rugby training for 90 minutes. Presentations on various topics of relevance and a hot meal are also provided. The program caters for approximately 60 kids [boys and girls].
Mr Layfield said, "We run a kids' programme not a sports programme and I really mean that. We want our kids to graduate and have options and be good people. Being a rugby player comes a distant second."
"As part of this initiative we realised the need to have something to work toward, so we started up the Bermuda Rugby League. The first truly Island wide scholastic club rugby league is officially starting play last week."
Six middle schools will join a group of high schools to form the Bermuda Rugby League and will crown a champion on a special championship day to be determined in late April/early May.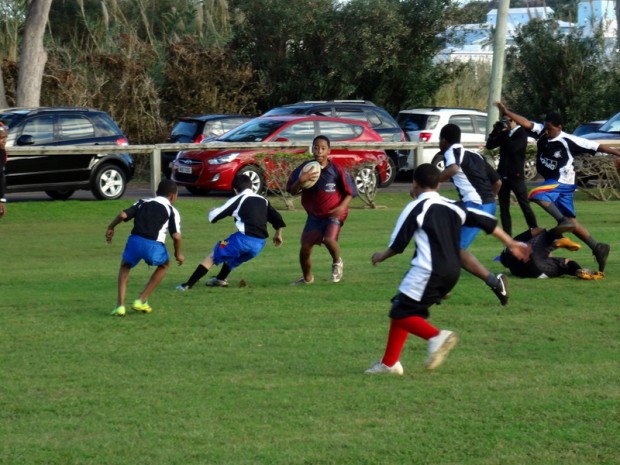 Chris Naylor, the BRFU youth leader, has run a program at Sandys for over a decade. Mr. Naylor has joined with three new rugby programs at Dellwood, T.N. Tatem and Whitney/Somersfield to form the middle school league along with existing programs at Warwick, Sandys and Saltus.
Patrick Calow was hired as a result of the Beyond Rugby partnership. He is also Youth Development Officer for the BRFU and runs the rugby portion of the Beyond Rugby program. Mr. Calow has impressive coaching credentials with a Bachelor degree in Sports Science from University of Newcastle and many years of coaching experience with Ulster Rugby and schools in Austin Texas. Mr. Calow is also coaching in the schools and helping Mr. Naylor coordinate the league.
The Beyond Rugby group has been offered a few invitations for international action including the NYC Harlem Cup June 9. Beyond Rugby plans on offering this to an all-star team of league players.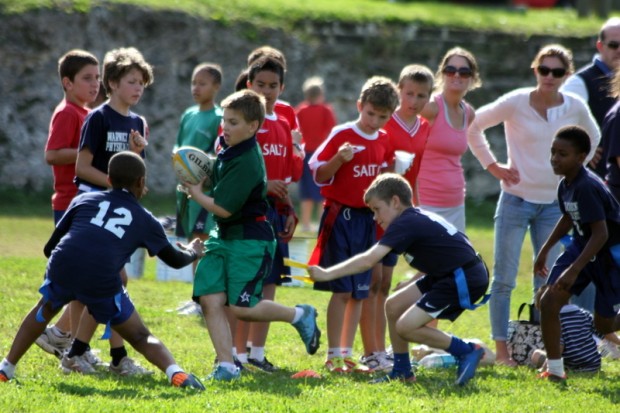 Dellwood and T.N. Tatem Middle Schools had the privilege of playing in the inaugural contest. Dellwood Middle School was victorious over T.N. Tatem Middle School 45-30 in the match played on Tuesday at Bernard Park. T.N. Tatem got 3 Try's from Asanti Darrell, 2 Try's from Milvin DeRosa and 1 Try from Rebuen Bulhoes.
For Dellwood, Zahynde Cann and Joshua Correia both had two Try's, while Josiah Smith, team captain Isiah Robinson and Xion Outerbridge-Smith had a Try each
Sandys played Whitney at Whitney Institute with a strong Whitney performance resulting in a 60-25 win.
A record turnout of 36 teams attended the Bermuda School Sports Federation/Bermuda Rugby Football Union annual Primary School Flag Rugby Tournament at Shelley Bay Field with some 350 children participating from various schools around the island and the event was a resounding success and very well attended by families and friends.
Warwick Academy defeated St. David's Primary 4 – 2, Warwick Academy had defeated Saltus 4 – 2 to reach the final, while in the other Semi-Final, and St. David's defeated St. George's Prep 5 – 1. The Saltus Girls were crowned Champions following their 3 – 1 win over the Francis Patton White Team.
Several rugby programs have run on the Island for some time and there has been great success with national programs and a very successful Sunday rugby program run by Robert Blee and the BRFU. The programs are currently in full force catering for ages from under 6 up to under 19. For those interested, rugby training is on Sunday morning at the National Sports Centre on Frog Lane starting with the U6/U8 age groups at 10.00am and the U10-U14 age groups training from 11.30am to 1pm, all are welcome to join. If you require any additional details please contact Keith Hodgkins at khodgkins@onsite.bm
Click to enlarge photos:
Read More About