Dwayne Pearman defended his title and is now the 2012 BPGA Stroke Play Champion. Pearman started the day 3 shots behind Chaka Desilva but it proved not to be Desilva's day as he bogeyed the first hole and struggled with his ball striking and putter to post a 76 and end in third place.
Pearman however didn't have it all his way as Daniel Augustus had taken the lead after the front nine after shooting and impressive 4 under 31. Pearman kept close however with his own under par front nine of 34(-1).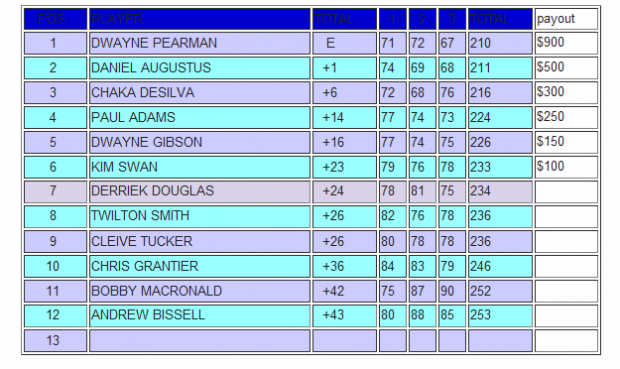 With nine holes to go Augustus lead by 3. Pearman on the 10th pulled within 2 shots of Augustus after his birdie, but it wasn't until the 15th Augustus's hands fell off the trophy.
At this point Augustus lead by 3 shots but a sloppy bogey on the par 5 allowed Pearman to birdie and cut the lead to one shot. Augustus again bogeyed the 16th to bring the two even for the tournament. On 17 Augustus couldn't capitalize on his length while Pearman made his birdie to take the lead which he secured on 18 with both players finishing with pars.
Pearman's final round 67(-3) was good enough to edge out Augustus's 68(-2) thus defending his title from 2011. Chaka Desilva finished 3rd while Tuckers Point Director of Golf Paul Adams finished in fourth after a solid 73(+3).
Read More About