The Department of Community and Cultural Affairs is inviting residents and visitors alike to attend this year's Gombey Festival on Saturday [Sept 22] at the W. E. R. Joell Tennis Stadium.
Held annually the Gombey Festival aims to provide exposure to the folk art and traditions of an important Bermudian icon. Each year the Festival showcases all of the Island's Gombey Troupes who put on a high energy, rhythmic display that always manages to excite the crowds.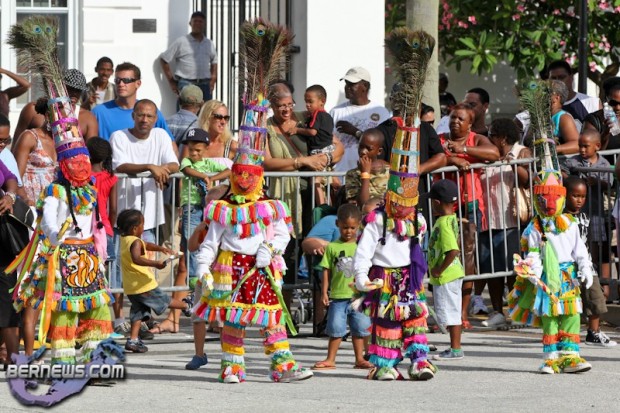 Also participating in this year's programme will be two stilt-walkers or "Mock-a-Jumbie" dancers from St. Kitts. They will share their tradition of dance and highlight the importance of appreciating traditions and diversity of other cultures.
The Minister of Economy, Trade and Industry, Patrice Minors said, "This event has grown by leaps and bounds over the past few years, and it's a wonderful community event that showcases one of our most recognizable cultural icons – the Gombeys.
Gombeys & Stilt-Walkers perform at last years festival:
"Aside from the May 24th Parade, there's no other event where Bermudians can see all of our Gombey Troupes in one place, so we consider this a very special occasion, and I cannot think of a better way to spend a Saturday night than by dancing and enjoying the high energy of this uniquely cultural event."
This year's event starts at 5.00 p.m. and is free to the public. It will feature all active Gombey Troupes, including:
H & H Gombeys
Richardson's Gombey Troupe
Places New Generation Gombeys
Warner Gombeys
Warwick Gombeys
Roots Gombeys
Gombey Warriors
Read More About
Category: All, Entertainment