The Renaissance Re Junior Gold Cup begins today [Oct 4], running alongside the Argo Group Gold Cup in Hamilton Harbour.
Whilst the world class teams compete for their slice of Alpari World Match Racing Tour [AWMRT] glory at the main event, young guns from around the world arrive to stake a claim to being the top up-and-coming Opti dinghy racers.
38 young skippers from around the world, photo by Charles Anderson: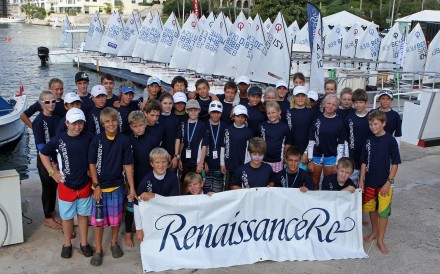 Of the graduates from previous years, Lance Fraser of Bermuda, Taylor Canfield of the USVI and Nicolai Sehested of Denmark have returned for this year's Tour event, signalling the level of quality present in the young field.
This year, a selection of 38 sailors, including 16 international competitors, will feature 13 Junior National Champions and numerours world ranked under-16's from various sailing backgrounds.
The skippers will take to the water today, looking to battle their way to the Final of the event on Sunday October 7th. Only then will the youthful Champions of tomorrow be able to start thinking about joining the world class teams they are sharing a shore with, competing for the King Edward VII Gold Cup.
Read More About