On Wednesday evening a total of 15 soldiers passed out after successfully completing the Potential Junior Non-Commissioned Officers' [PJNCO] course.
Regiment Commanding Officer Lt Col. Brian Gonsalves said: "We are very proud of them all. These are the soldiers the new recruits will spend most time with when Recruit Camp 2013 is held in January, so it's important they are the very best the Regiment can provide as junior NCOs and role models. They put in an enormous amount of extra work and time and not everyone is prepared to put in that level of commitment."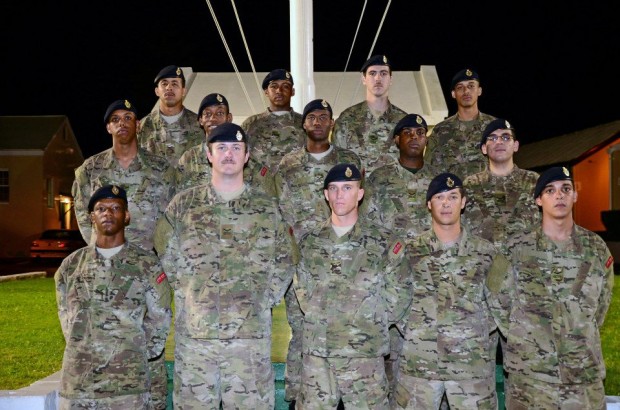 National Security Minister Wayne Perinchief, a former top police officer and ex-Regiment soldier, told the soldiers: "I too come from a uniformed service background and so I know the thrill of promotion and seeing hard work rewarded.
"The Bermuda Regiment is a professional organization and those of you climbing the ranks are the glue that keeps the organization together.
"Separate out all the public noise lately and take a moment to be proud of what you have achieved. The Government's recent commitment to the creation of a full-time Regiment is based on the fact that we feel there exists a strong foundation upon which to build.
"Our desire to see this come to pass is a reflection of just how important the Regiment is to Bermuda and how much we value your contribution to your country in its service."
The 15 were all honoured at a special promotions parade held at the Warwick Camp. The soldiers – all now Lance Corporals – were part of last year's intake of recruits and volunteered for the near-year long course aimed at promotion.
Adjutant Major Ben Beasley, who was promoted from Captain at the same ceremony, said the new NCOs were whittled down from an original cadre of 38 Private Soldiers.
He said: "They are all qualified to act as instructors to junior ranks and most of them will take part in recruit training.
"There is a lot of extra work required and they do have to undergo some overseas training as well. Those who successfully complete the course show a huge amount of dedication to the aims of the Regiment."
In addition to promotion for Major Beasley, 2nd Lieutenant Gordon Emmerson – who was the designated officer to lead the promotions platoon in the parade – was promoted to Lieutenant.
Regimental Padre, Rev. David Raths, rector of St Peter's Church, St George's, who has served with the Canadian armed forces, was also read aloud as he will be formally receive his commission (as a Major) from Governor George Fergusson later this month.
Col. Gonsalves said: "I am confident that – no matter what the future brings in terms of our role and the potential for expanded responsibilities – the future of the Regiment is in safe hands."
Read More About
Category: All