Following on from the issue commemorating her Majesty Queen Elizabeth Diamond Jubilee in 2012, The Bermuda Philatelic Bureau of the Bermuda Post Office is now releasing a special series of stamps to celebrate the next milestone in Her Majesty's life which is the 60th Anniversary of her Coronation.
The new set of commemorative stamps consist of five stamps, in sheetlets of eight stamps, each showing items and packaging released during the reigns of Victoria, Edward VII, George V, George VI and Elizabeth II all based on images supplied by Robert Opie – a known worldwide collector of Advertising Memorabilia and the curator of Opie's museum of Memories which contains tens of thousands of examples of advertising and packaging material.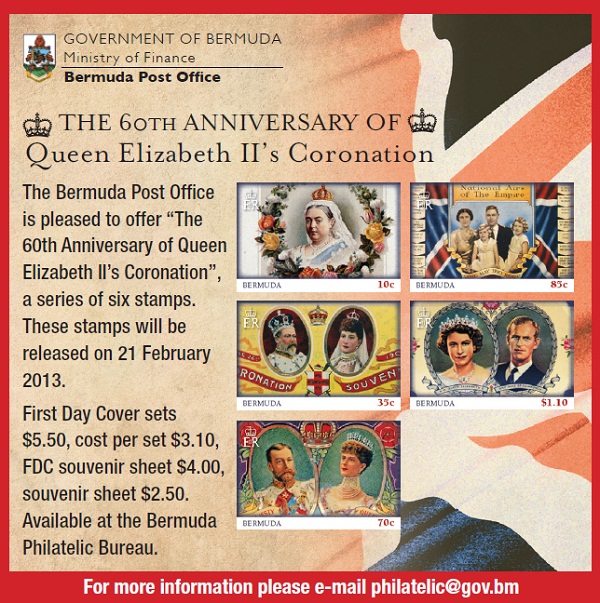 Additionally, this commemorative series includes a souvenir sheet containing a single $2.50 stamp bearing an official portrait of Queen Elizabeth II. This release represents the first commemorative stamp issue for the year, and continues what the Bermuda Post Office says is an effort to portray all facets of Bermuda's heritage, culture and history.
The stamps are available in values of 0.10c, 0.35c, 0.70c, 0.85c, and $1.10. Official First Day covers with liner $5.50.Official First Day covers souvenir sheet with liner $4.00. Souvenir sheet $2.50. Orders may be pre-paid for collection or mailing on the day of issue at the General Post Office or any sub-Post Office The next commemorative stamp for release will be Bermuda Beaches Pt 2 proposed release date 17th May, 2013.
Additional details are below [PDF here]:
Read More About