Tomorrow's Voices – Bermuda Autism Early Intervention Center will host a workshop on Wednesday, February 27th, 6-8 pm at Tomorrow's Voices [The Sunshine League Building - #27 King Street, Hamilton]. The workshop is entitled "Applied Behavioural Analysis: a Toolkit for Analyzing and Improving Learning and Behaviour."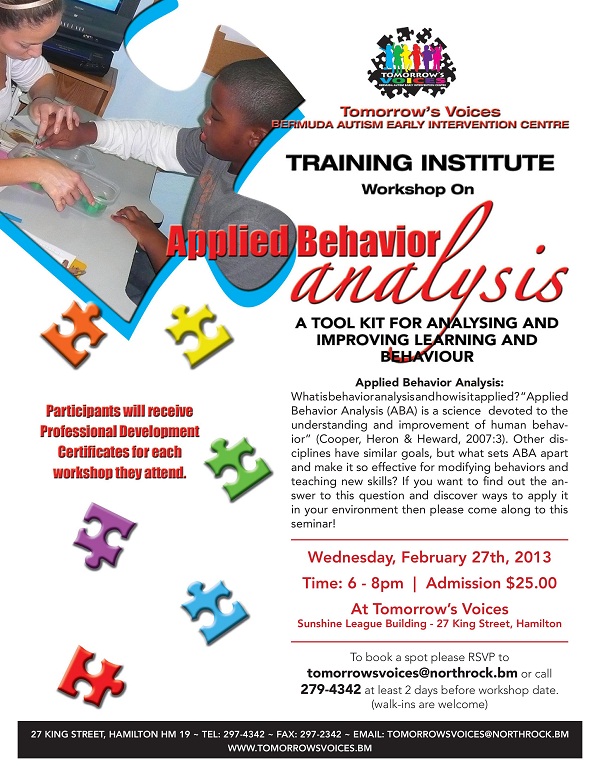 The Training Institute workshops are geared towards educators, allied health professionals, caregivers and parents. The workshops are conducted by senior therapist Emma Martin, BA, MEd and Natasha Pedro-Petty, BA, MA[Special & Inclusive Education], both of whom have worked with and developed programs for students with autism and developmental disabilities for a number of years.
The cost per workshop is $25 and participants will receive professional development certificates for each workshop they attend. Additional information on the Training Institute series, as well as the broader Tomorrow's Voices organization and mission, can be obtained on the website www.TomorrowsVoices.bm.
The session will introduce ABA and touch upon why the method has become such an effective tool for modifying behaviours and teaching new skills. For further queries contact Thea Furbert at 297-4342 or email info@tomorrowsvoices.bm.
Read More About
Category: All