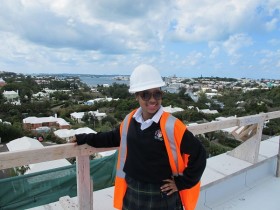 Bermuda Hospitals Charitable Trust [BHCT] today announcesdthe release of its new campaign theme song called Why it Matters, written and performed by Bermudian recording artist, 17-year-old Kaelyn Kastle.
The song, which is available for free download at www.BermudaSoul.com, will be an important fixture in raising awareness about the Why it Matters campaign and the KEMH Redevelopment Project.
Miss Kastle is just one of many young people in Bermuda who are stepping up and supporting the Why it Matters campaign, which aims to raise funds in support of the KEMH Redevelopment Project.
"I was inspired to write the song because I believe in the campaign and in the power of Bermuda's youth banning together to invest in the new hospital, as we are the generation who will benefit the most from an improved, state-of-the-art medical facility," said Miss Kastle. "I am thrilled to be the voice behind the song for Why it Matters and I hope the song will inspire others to get involved and donate to the cause."
"We are so grateful to Kaelyn for lending her talent and popularity as a recording artist to the Why it Matters campaign through this catchy theme song," said Wendy Augustus, Executive Director of BHCT. "In addition to radio play, the song will be used in our marketing efforts and at events. I encourage everyone to download the song and think about the future of hospital care on our island and why it matters to you."
In addition to Miss Kastle's contribution to the Why it Matters campaign, several other young philanthropists have joined the effort. Students from various high schools on the island have come together as the official Youth Advisory Committee for the campaign. Members include Jazmine Cann of Berkeley Institute, Russell Conters and Lindsay Fisher of Warwick Academy, and Bryanna Furtado of Mount Saint Agnes Academy.
The Youth Advisory Committee was formed to execute fundraising activities geared toward younger people in Bermuda, the first of which is a Why it Matters coin box campaign. Launched in the lobby of KEMH, the coin boxes will also be available at the popular children's store Treats of Bermuda in the Washington Mall.
"Participating in a coin drive is one way the young people of Bermuda can make a big difference," said Laura Lyons, BHCT's Community Development Officer. "On behalf of the Youth Advisory Committee, we really want to encourage other companies and schools to follow the example of Treats of Bermuda and join the Why it Matters coin box campaign."
To obtain a coin box, please visit Treats of Bermuda or call Ms. Lyons at 441.295.2428. In addition, people can visit http://whyitmatters.bm/ for more information and to access online pledging options or follow the campaign on Facebook.
This PDF shows the progress, as of March 2013, on the KEMH redevelopment project.
Read More About
Category: All, Entertainment, News