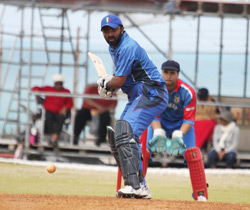 The Bermuda Select Cricket Team met up with Italy yesterday [Apr 23] for a warm-up match ahead of the Pepsi ICC Division III Cricket Tournament, which will run from April 28 to May 5 in Bermuda, and include teams from Italy, Nepal, Oman, Uganda, the USA and Bermuda.
Italy batted first and scored 283/8 in their allotted 50 overs, opener Damian Fernado and Peter Petricola both scored 41, number 9 batsman Gayashan Munasinghe scored 33 not out hitting one four and three sixes. Christian Gibbons led the Bermuda Select bowling attack with figures of 4-0-29-2, while Dennico Hollis returned figures of 6-0-37-2.
In reply Bermuda was restricted to 165/9 in their allotted 50 overs, Sammy Robinson was the top Bermuda batsman scoring 27, Joshua Gilbert added 26 not out, while Tre Manders scored 23 and Chris Foggo scored 20. Dinidu Marage was the pick of the Italy bowlers with figures of 9-3-14-3, Luis Di Giglio bowled 7-0-18-2.
Italy's Inning
..41 Damian Fernado c Lateef Trott b Sammy Robinson
..15 Dinidu Marage c Chris Douglas b Christian Gibbons
..01 Alessandro Bonora c Justin Pitcher b Christian Gibbons
..41 Peter Petricola b Delray Rawlins
..32 Damian Crowley b Dennico Hollis
..44 Carl Sandri b c Chris Foggo b Delray Rawlins
..19 Michael Raso Not Out
..05 Fida Hussain c Tre Manders b Dennico Hollis
..04 Vincenzo Pennazza c Justin Pitcher b Dennico Hollis
..33 Gayashan Munasinghe Not Out
..48 Extras (3lb-45w)
283 Total for 8 Wickets after 50 overs
Bermuda Bowlers
10.-0-76-0 Justin Pitcher
4.0-0-29-2 Christian Gibbons
5.0-0-34-0 Lateef Trott
2.0-0-21-0 Joshua Gilbert
3.0-0-17-0 Jordan DeSilva
10.-2-19-1 Sammy Robinson
10.-0-47-1 Delray Rawlins
6.0-0-37-2 Dennico Hollis
Bermuda's Innings
..12 Chris Douglas b Vincenzo Pennazza
..20 Chris Foggo c Damian Crowley b Damian Fernando
..23 Tre Manders b Dinidu Marage
..05 OJ Pitcher c Gayashan Munasinghe b Peter Peteicola
..27 Sammy Robinson b Luis Di Giglio
..10 Allan Douglas Jr c Gayashan Munasinghe b Dinidu Marage
..00 Kwasi James c & b Dinidu Marage
..11 Dennico Hollis c Camian Crowley b Luis Di Giglio
..26 Joshua Gilbert Not Out
..10 Delray Rawlins c Luis Di Giglio b Carl Sandri
..03 Azende Furbert Not Out
..18 Extras (3b-2lb-13w)
165 Total for 9 Wickets after 50 overs
Italy Bowlers
5.0-1-13-0 Gayashan Munasinghe
7.0-0-37-1 Vincenzo Pennazza
5.0-0-13-1 Damian Fernando
4.0-0-16-1 Peter Petricola
9.0-3-14-3 Dinidu Marage
8.0-0-31-1 Carl Sandri
5.0-0-18-0 Fida Hussain
7.0-0-18-2 Luis Di Giglio
Final Score
Italy 283/8 Bermuda Select 165/9
Read More About