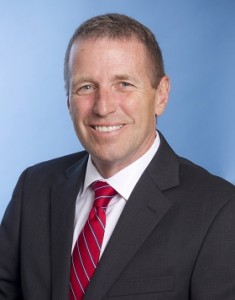 Bermuda Hospitals Board today [Apr 30] announced that Dr Michael Weitekamp has been appointed as Chief of Staff, effective May 1st.
The Chief of Staff is responsible for all physicians and is the medical lead at BHB. The position reports to the Chief Executive Officer, Mrs Venetta Symonds, and is accountable to the Board and Minister for Health & Seniors.
As Chief of Staff, Dr Weitekamp will lead a team of medical and support personnel. The position is the most senior medical role at BHB, and is responsible for the supervision of medical and dental care given to patients and residents in BHB facilities.
He and the Chief of Nursing, Quality & Risk, Judy Richardson, will also work with physicians and staff in developing a clinical strategy and care model for the new acute care wing, due to open in 2014, and strategies related to clinical service redesign and hospital utilization. Dr Weitekamp will also assist Mrs Symonds in identifying and developing a Bermudian to take on this role at the end of his contract.
Dr Weitekamp is an American who specializes in Internal Medicine and Infectious Diseases. For the last 36 years, Dr Weitekamp has worked at The Pennsylvania State University College of Medicine and Milton S. Hershey Medical Center, an academic medical center with a medical school, 500-bed teaching hospital, 800 physician clinical faculty, 600 residents/fellows and nearly 300 advance practice clinicians.
Over the course of his tenure at Penn State, Dr Weitekamp has served as Chief Resident, Chief, Division of General Internal Medicine, Medical Director, Penn State Geisinger Health Plan, Chief Medical Officer, Vice Chair of Medicine for Community Engagement and Professor of Medicine. Last year he was on sabbatical in Washington DC as the Robert G Petersdorf Scholar-in-Residence of the Association for American Medical Colleges working on health policy and the implications of payment reform on academic medical centers under the Patient Protection and Affordable Care Act as signed into law by President Obama in 2010.
Chairman of the Board, Mr Jonathan Brewin, comments: "I am very pleased to welcome Dr Weitekamp to Bermuda Hospitals Board. He brings extensive experience in medical and organizational leadership, ensuring patient safety and quality standards, change management and cost control. Quality and safety are the absolute priority of the Board, and they must remain so even as we seek greater efficiencies and implement cost containment measures. His experience in managing these many challenges and opportunities through collaboration and strategic planning will be vital to seeing BHB through a great time of transformation."
Chief Executive Officer & President, Mrs Venetta Symonds, adds: "This is an exciting time at BHB. We have been extremely fortunate in having Dr Victor Scott at BHB as Interim Chief of Staff over the last nine months and his leadership has greatly improved relationships and the focus on quality at BHB.
"I am confident that Dr Weitekamp will build on this legacy as well as play an important role in the strategic planning and transition of services moving into the new acute care wing in 2014. His breadth of experience includes strategic facility planning for new clinical spaces, and this will be a major benefit to BHB and to Bermuda."
Dr Weitekamp has a Bachelor of Science in Biology from Fairfield University, a Doctor of Medicine from Georgetown University and a Master of Health Administration from Penn State University. His post-graduate training in internal medicine and infectious disease was at Penn State.
He is a graduate of the Executive Leadership Program from the American Association of Health Plans. He holds current certification by the American Board of Internal Medicine in both internal medicine and infectious diseases. Professional affiliations include Fellow, American College of Physicians, Society of General Internal Medicine, Pennsylvania Medical Society and Dauphin County Medical Society.
Dr Weitekamp replaces Dr Donald Thomas who left the position in unclear circumstances last year. Dr Thomas was placed on "administrative leave" during the summer, and formally resigned on October 1st 2012
Read More About