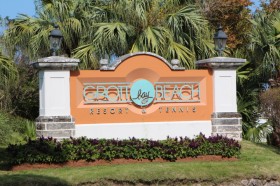 Minister of Home Affairs Michael Fahy confirmed that Department of Immigration Inspectors visited the property of the Grotto Bay Hotel earlier today [Apr 3] to investigate an immigration violation complaint.
As the matter is still in its investigation stages, the Minister advised that it "would be premature to provide further comment on the specific incident."
The Minister said, "Employers should be aware that as we move forward with our work permit reforms the enforcement component will be strengthened.
"The Immigration and Protection Act 1956, places a burden on employers to verify the status of a prospective employee and to ensure that unauthorised guest workers are not hired."
The Minister noted that an effective work site enforcement strategy will be implemented to address both employers who knowingly hire unauthorised workers and workers who are performing duties outside of conditions prescribed by their work permit.
Investigations will also involve egregious violations of criminal statutes by employers and widespread abuses such as harbouring, fraud or worker exploitation, Government said.
Minister Fahy concluded, "Essentially, the public can expect a new get-tough approach towards work permit violators and employers who knowingly contravene the Act."
Read More About