Legendary West Indies cricket player Brian Lara will attend today's [May 4] match in the Pepsi ICC World Cricket League [WCL] Division 3 between the USA and host Bermuda at the National Sports Centre, the Bermuda Cricket Board has confirmed.
Lara is a regular visitor to Bermuda and usually attends the PGA Grand Slam of Golf held at the Port Royal Golf course in October. Lara has come to lend support to the ICC event and all the teams as they compete to win qualification to the ICC Cricket World Cup Qualifier 2014.
President Barack Obama with Mr. Lara, who he described as the "Michael Jordan of cricket"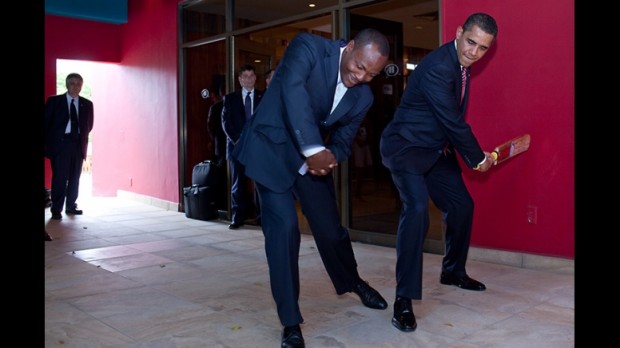 The 44-year old left-hander was one of the West Indies most prolific batsmen , having represented the West Indies in 131 Tests and 299 ODIs in a career that spanned 17 years. He amassed some 11,953 Test runs at an average of 52.88.
Lara scored 34 Test centuries and 48 half-centuries, while his best performance with the bat featured against England in Antigua in 2004 when he scored 400 not out.
In the 299 ODIs that Lara played, he scored 10,405 runs at an average of 40.48, including 19 centuries and 63 half-centuries. As the West Indies captain, Lara led the side to victory in the ICC Champions Trophy in England in 1994.
Lara played 429 First class matches, scoring 22,156 runs, including an unbeaten 501 scored against Durham in 1994, playing for Warwickshire.
In 2012, Lara was inducted into the ICC Cricket Hall of Fame alongside Englands Enid Bakewell, in a ceremony in Sri Lanka during the ICC World Twenty20.
Mr Lara will attend the Bermuda vs USA at the National Sports Centre, and in other action today Nepal will match up against Italy in St David's and Uganda will take on Oman in Somerset. All matches start at 10.30am.
You can view all our coverage of the Pepsi ICC World Cricket League [WCL] Division 3 thus far here.
Read More About