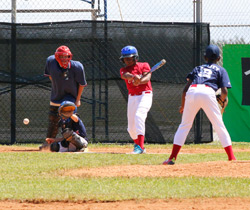 It was a battle of wits this week with the Orioles riding high and the Athletics on a 2 game losing streak.
The Orioles Liam Evans and KJ Moreno got the offense going early for the Orioles in the first inning as Evans hit a solid line drive into left center field and was able to stretch what was a guaranteed single into a double. Moreno who was next up, matched Evans by going to right center field garnering a single and an RBI. The Orioles unfortunately where only able to put 1 more run on the board in the top of the 3rd, after Chris Ricca was walked, then stole 2 bases and was driven in by Liam Evans.
Not to be outdone, the A's come out fighting. In the top of the 2nd inning, Max Betteto started off the offense with a single to center field. Dylan Sommerville also reached base and was driven in by the surging Kip Malpas who singled to left. In the top of the 4th, Corey Simas blooped a single to right center and later scored on a James Patterson double putting the A's on top 3-2.
The A's added a little insurance in the top of the 7th, when combo of Betteto & Sommerville walked and singled. But it was Kip Malpas who again did it for the A's driving in the runs solidifying the A's victory over the Orioles by a score of 5-2.
Read More About