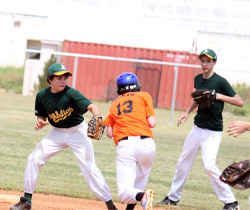 The Orioles and Athletics battled it out and got through 3 innings in near record time, but in the end the Orioles defeated the Athletics 14-11.
At the completion of those 3 innings, pitcher Jaylen Martin and the Athletics had given up just 3 runs. Martin pitched through the 5th inning, struck out 7 Orioles batters in that time frame. Catcher James Patterson put in a spectacular effort behind the plate with a diving catch that sent him nearly crashing into the fence! Patterson also had 2 Singles, a Double and 2 RBI's.
The day however belonged to KJ Moreno and the Orioles, Moreno pitched 4 perfect innings striking out all 12 batters he faced throwing just over 50 pitches. On the offensive side of things, Moreno and Josh Allen led the charge for the Orioles with 2 walks, a Single and a RBI for Moreno and 2 Singles, a Double and 2 RBI for Allen.
The YAO Little League Phillies came from behind and defeated the Mets 12-7, the game was back and forth with 5 lead changes. The Mets jumped out to an early lead in the 1st and added more on a passed ball scoring Sebastian Lee. The Mets were once again led by Stephan Paynter with strong pitching and was relieved by Ryan Mullen. The Phillies bats proved to be too strong for the Mets, led by Nicholas Martin with 3 RBI's. Martin was also very strong on the mound, coming on relief and giving up only one run.
The afternoon game featured the Orioles and struggling Red Sox, who dropped out of first place with the 2nd consecutive loss. The bottom of the Orioles order came through in spectacular fashion in a tense 11-10 victory over the Red Sox. Armand Foy scored two runs, drove in two runs with a fifth inning double and made a great catch in center field, which would prove to be a game saver. Jalen Commissiong scored three times, including the game winner.
Keiran Malott drove in a run and worked a crucial walk in the bottom of the sixth inning. Liam McCue came on in the sixth inning to record the third out and picked up the win. The Red Sox had strong pitching from Narsje Brockington and Declan McKittrick. Shirwin Jones had a home run, but the late rally fell short.
Read More About