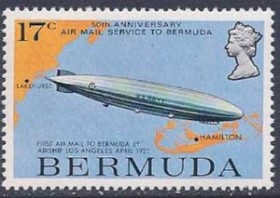 The first air mail to and from Bermuda was carried aboard an airship — the 656-foot USS "Los Angeles" which visited the island twice in 1925.
A 2,472,000 cubic foot rigid airship, the "Los Angeles" was built at Friedrichshafen, Germany.
Her construction was partially funded by German World War I [1914-1918] reparations owed to the United States.
Completed in August 1924 under the builder's number LZ-126, she departed Germany in mid-October 1924 for delivery to the US Navy.
After a three day trans-Atlantic flight, the airship arrived at Naval Air Station Lakehurst, New Jersey, where her hydrogen lifting gas was replaced with non-flammable helium.
This greatly increased her safety, but also significantly reduced her payload and range.
In late November 1924 she was placed in commission as USS "Los Angeles" and began several years of flight activity to explore the potential of her type for commercial and Naval use.
Between February and May 1925, she voyaged twice to Bermuda and one time to Puerto Rico, and made test moorings to the Navy's floating airship base, the oiler "Patoka."
The USS "Los Angeles" moored to the floating airship base "Patoka"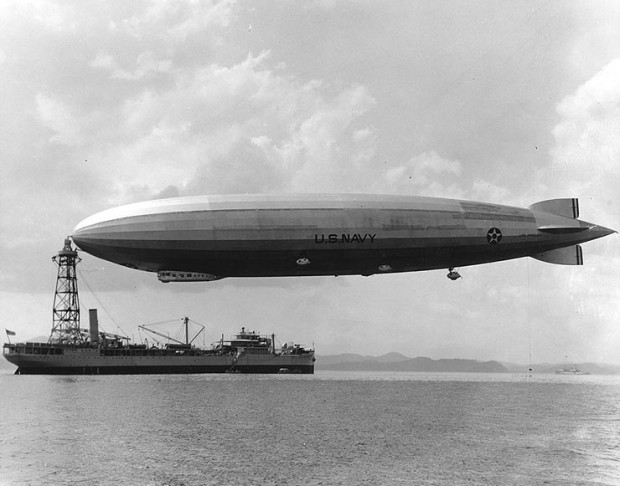 On her first visit to Bermuda a bag of mail was dropped from the "Los Angeles" into the grounds of Government House.
And during her second visit to Bermuda in April — when she moored to the "Patoka" off-shore — she not only delivered mail but carried 3,000 letters from Bermuda back to the United States.
Each round-trip from its New Jersey base to the island took about 30 hours.
The specially franked envelopes carried on the two "Los Angeles" voyages to Bermuda are highly prized among philatelists.
The "Los Angeles" was decomissioned and broken up for scrap in 1939.
Appropriately enough, the 50th anniversary of the two 1925 visits by the "Los Angeles" were commemorated by a special stamp issued by the Bermuda Post Office in 1975.
Three years later when the "Graf Zeppelin" passed directly over St. George's on its first trial transatlantic crossing from Germany to New York in October, 1928, the 776-foot dirigible dropped a packet of postcards intended for delivery to the East End town's post office.
Initially the bag of airmail was feared lost.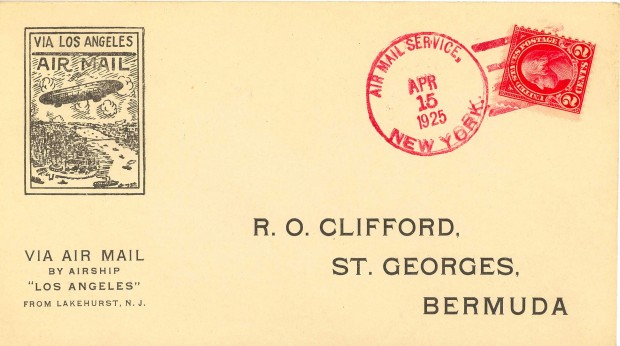 "Due to the high winds and the probability that the package was carried out to sea, there was little expectation that it would ever be found," Bermudian philatelic expert Horst Augustinovic has reported. "That is until boatman Leonard Bascombe hauled up his mooring line!
"Attached was a thoroughly soaked small bag containing a number of postcards with the request that they be taken to the Post Office and forwarded by ship to New York.  This was done by the postmaster of St. George's who, even though the postage stamps had soaked off the postcards, dried them and applied both the St. George's date stamp of October 15th 1928, as well as the AIR MAIL SERVICE BERMUDA handstamp which was used three-and-a-half years earlier when the airship 'Los Angeles' visited Bermuda."
Read More About