The U.S. Coast Guard Cutter Eagle is scheduled to arrive in Bermuda at 10am on Saturday [June 29] as part of its 2013 cadet summer training deployment. The ship will be moored in Hamilton.
At 295 feet in length, the Eagle is the largest tall ship flying the stars and stripes and the only active square-rigger in U.S. government service. It was constructed in 1936 by the Blohm and Voss Shipyard in Hamburg, Germany, and originally commissioned as the Horst Wessel by the German Navy. The United States took the Eagle as a war reparation following World War II.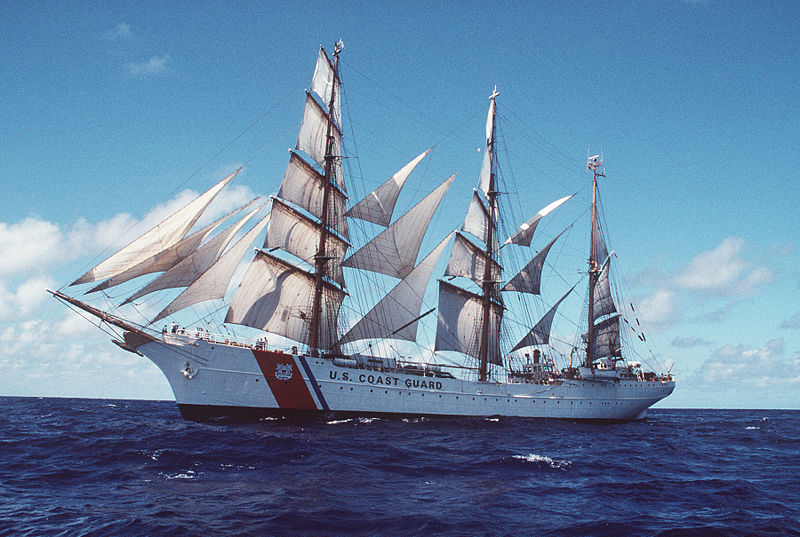 With more than 23,500 square feet of sail and six miles of rigging, the Eagle has served as a classroom at sea to future Coast Guard officers since 1946, offering an at-sea leadership and professional development experience.
Currently there are 24 upper class cadets from the Coast Guard Academy, 83 cadets who just completed their freshman year, seven midshipmen from the U.S. Naval Academy, and six U.S. Sea Cadets. The summer deployment spans 13 weeks, stopping at nine port calls in five countries, with four different groups of cadets training on board.
A permanent crew of seven officers and 50 enlisted personnel maintain the ship and guide the cadets through an underway and in-port training schedule, dedicated to learning the skills of navigation, damage control, watch-standing, engineering and deck seamanship.
While in port, cadets from the Eagle will engage in several community projects with Habitat for Humanity Bermuda and Keep Bermuda Beautiful.
The Eagle will give free public tours on the following dates/times. The minimum age for children is 10.
Saturday [June 29]: 2pm to 7pm
Sunday [June 30]: 10am to 4pm
Monday [July 1]: 10am to 7pm
Read More About
Category: All