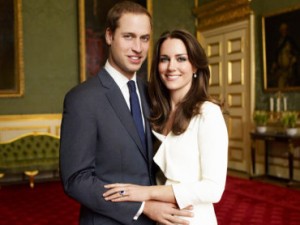 [Updated with video/photos. The Duchess of Cambridge gave birth to a baby boy, and the Bermuda Regiment fired a 21 gun salute at 6.30pm this evening at Albouys Point]
The UK media is presently camped out in droves outside the hospital in London waiting for the birth of the royal baby, and miles across the Atlantic the Bermuda Regiment is also taking notice, as they are expected to fire a 21 gun salute to mark the occasion.
The Duchess of Cambridge and Prince William announced at the start of the year that the baby was due in July, but did not announce the date.
The Duchess — who is now in labour — and Prince William traveled from Kensington Palace to the Lindo Wing at St. Mary's Hospital early this morning [July 22], the palace confirmed. The hospital, next to Paddington Station in London, is where Prince William and his brother Prince Harry were born.
Throngs of reporters are set up outside the hospital, some even going as far as setting up tents. The Sun newspaper is streaming live video of the entrance to the Lindo Wing, as is ABC news. There are countless live blogs going at various international websites, with every tiny detail of the impending royal baby being covered.
The baby will be third in line to the throne after Prince Charles and Prince William, regardless of gender. A rule change in 2011 ended centuries of male primogeniture, which decreed that the crown passed to the eldest son and was bestowed on a female only when there were no sons.
According to the official website of the British Monarchy, gun salutes are customarily fired, both on shore and at sea, as a sign of respect or welcome. Government House is expected to announce the 21 gun salute after the baby is born, with the location not yet confirmed but expected to be Albouys Point in Hamilton.
Update 4.43pm: Buckingham Palace confirms that the Duchess of Cambridge has given birth to a baby boy.The baby was born at 4:24 p.m. weighing 8 pounds 6 ounces. A name has not yet been announced for the child, who is now third in line to the throne.
Update 4.46pm: The Bermuda Regiment will fire a 21 gun salute at 6.30pm at Albouys Point.
Update 5.09pm: The Government officially confirms the 21 gun salute will take place at 6.30pm this evening. The Governor and the Deputy Premier Michael Dunkley will be in attendance, and the Government also noted that there will be some minor traffic restrictions in place in the area this evening.
Governor George Fergusson sent a letter of congratulations to TRH the Duke and Duchess of Cambridge following the birth of their new baby boy.
The letter of congratulations is below [PDF here].
Update 5.33pm: A statement from Premier Craig Cannonier said, "On behalf of the government and people of Bermuda, I extend our heartfelt congratulations and best wishes to the Duke and Duchess of Cambridge on the birth of your son and to the people of Great Britain on this very exciting and joyous occasion."
Slideshow showing the 21 gun salute:
Video of the 21 gun salute:
Read More About