On Friday [August 2] Carnival Cruise Line's Top DJ, DJ Castro will host Cup Match Fever 2013 at Gombeys, Clearwater Beach.
The party will kick off at 8pm and one hour battle starts at 9pm with a coin toss. The winner will be crowned at 2am by the patrons and will play a victory hour from 2am to 3am. All genres of musics will be played during the battle.
A spokesperson said, "As this is our 6th year we are doing something different and exciting that our patrons will love. This year we will have Team Old School versus Team New School.
"Gombeys will be transformed into a huge outdoor club on the beach. Reality rentals will deck out the venue with laser lights and smoked dance floor. We urge everyone to come dressed in comfortable shoes because this party is known for making people's feet hurt from dancing long hours.
Team Old School will play the hits from the 80s, 90s, and up to 2005:
Magnum Force
Lenky Global
Selecta Fray
Jagga Movements
Team New School will play the hits from 2005 to the present:
YGS
iMega
Chinese Assassin from Miami
Champion Squad from Miami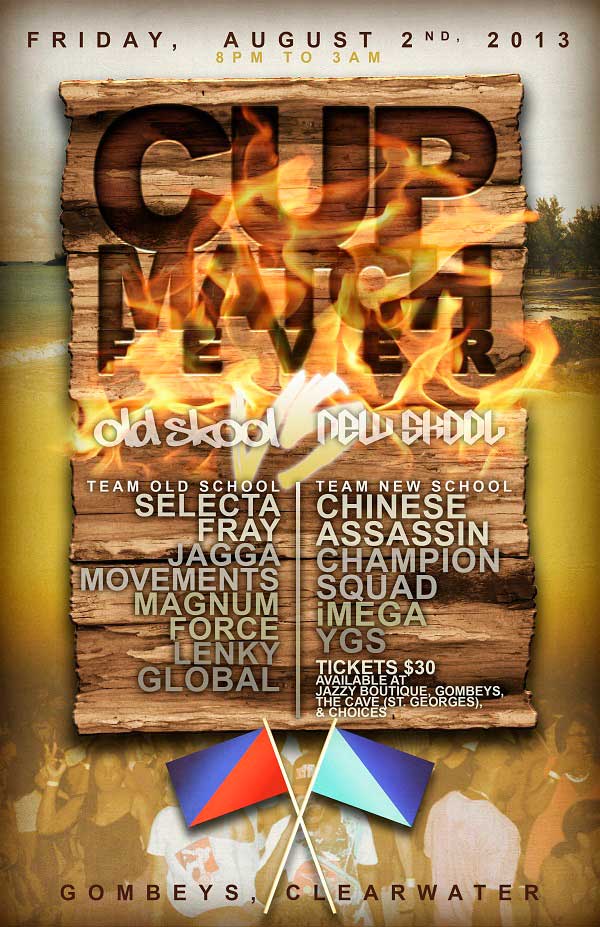 "We have been averaging 1,200 – 1,500 patrons every year. This year we expect at least 1,200 party revellers. We encourage everyone to bring their whistles, flags, horns and any other noisemaker they can fling to cheer on their team.
"We recognize people would like to go out and have a good time on a strict budget. We are confident that this party fits that budget perfectly".
Entry fee for this event is $30 and tickets can be purchased at Kit n Caboodle, Jazzy Boutique, Gombeys, The Cave in St Georges, and all event DJs.
Read More About
Category: All, Entertainment