Nikki and Tyler Butterfield today announced that they are expecting an addition to their family, a baby boy due on February 1st. The pair of professional triathletes eagerly anticipates the arrival of a sibling for two-and-a-half-year old daughter Savana Rose.
Following Savana's birth on December 22, 2010 Nikki made quick work of a comeback to the sport. She returned to racing a mere six months after Savana was born, scoring three second-place finishes in short order at 5150 events [2011's Darmstadt, Klagenfurt and Boulder].
Tyler, Nikki, and Savana after the 2012 Olympics: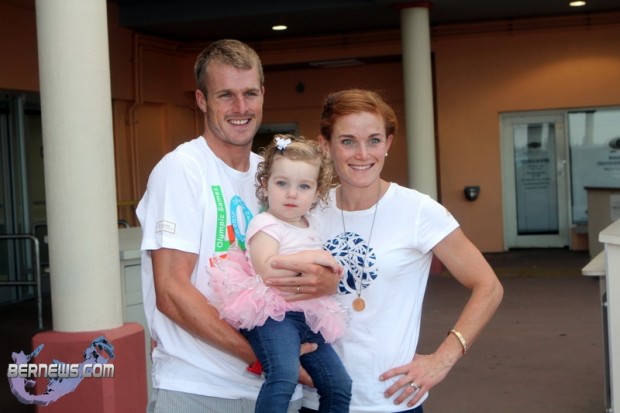 Leading the professional rankings into the 2011 Hy-Vee 5150 U.S. Championship, Nikki finished fourth amid a world-class field and was warmly greeted by then eight-month old Savana. Just two months after her daughter's first birthday, Nikki went on to claim the victory at the prestigious Abu Dhabi International Triathlon in 2012.
When asked whether she plans a second post-childbirth comeback to the top level of the sport, Butterfield expressed her uncertainty, "At the moment I'm not thinking about racing again. I'm really enjoying being a stay-at-home mom and having the time to be more organized. With both Tyler and I racing it was a whirlwind. I've changed my plans so many times though, so I haven't completely closed off the option to compete again.
"For now I'm still registering my whereabouts, keeping the door open to racing if I feel differently next year. For sure I'll be very keen to get back into shape after having this little guy, but at this stage I don't think that will be in professional triathlon. We'll see when the time comes."
Read More About