The upcoming inaugural Bermuda Long Drive Championship — that is due to take place on October 26th at Riddell's Bay Golf & Country Club — has extended its entry deadline to October 23rd.
Bermuda's 1st Annual Long Drive Championship will provide the golfing community of Bermuda the opportunity to showcase their golfing skills and compete against some of the longest hitters on the island in one of the fastest growing competitions in the world of golf today.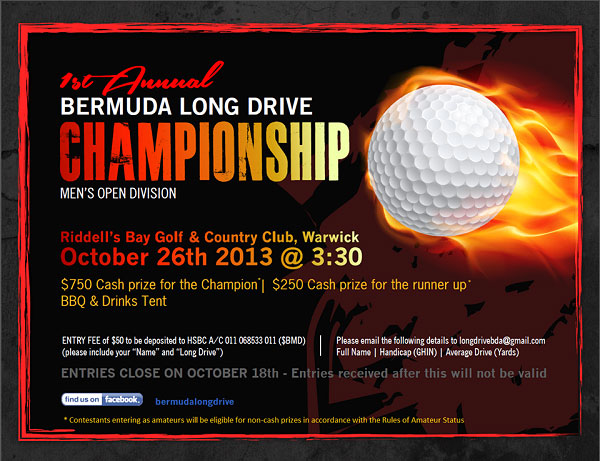 When asked if this type of event is limited to those that can hit the golf ball over 300 yards, organiser Ronan Kane said "The Championship we're putting on here isn't like the sort of one you would tend to see on TV where the competitors are hitting it in excess of 400 yards.
"The intent here is to bring something new to the island's golfing community and have people come out and compete and have fun. The way the Championship is designed is that it provides each golfer with equal opportunities to advance to the next round and continue towards becoming the champion for 2013. Someone may be able to hit the ball 270 yards and come up against someone who hits it 320 yards, but there is no guarantee that the person who hits it 300 yards is going through to the next stage."
The competition is open to golfers of all levels and with a strong and loyal golfing community, organizer Mr. Kane hopes that even those that aren't competing will come out to support the event and the competitors. There will be a BBQ and drinks tent, as well as viewing areas, so a fun afternoon is on the cards. The Champion will receive $750 in prize money or vouchers, depending on their amateur status, with the runner up banking $250 in either also.
The event is open to all males over 18, and all entries must be received by October 23rd with the entry fee of $50. Full entry rules can be found on the Facebook page or by emailing longdrivebda@gmail.com.
Read More About