Bermuda will soon have a professional organisation which promotes the ethical raising of funds in our charitable sector. A Bermuda Chapter of the Association of Fundraising Professionals [AFP] is in the works for 2014 and the CEO and President of AFP International will be on the island next week to give presentations on fundraising and philanthropy to donors and nonprofits.
On Wednesday October 9th, Andrew Watt will be presenting to nonprofit boards, executive directors and senior staff on when to invest in fundraising, fundraising success stories and global trends in fundraising from 9am-10:30.
Later, from noon – 1:30pm, Mr Watt will present to the donor community on corporate responsibility and global philanthropic trends and the need to the professionalization of fundraising and the accreditation of fundraising professionals. Both sessions will be held at The Centre on Philanthropy in Sterling House on Wesley Street.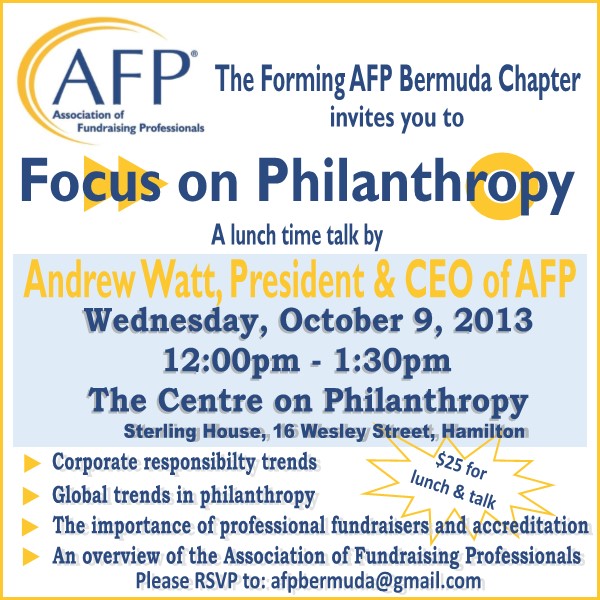 President-elect of the forming Bermuda Chapter of AFP, Jennifer Burland Adams, explained, "We are very excited for Andrew's visit on the 9th.
"The nonprofit presentation is for anyone who sits on a Board, works at the senior staff level or volunteers for the fundraising portion of the non-profit. Especially in this more difficult fundraising environment, it is important to consider how to fund-raise more effectively and efficiently, and when a nonprofit should invest in its fundraising programme.
"For the donor community, there is something for both corporate and foundation donors, as well as individual donors in the community. I think it is important for donors to hold nonprofits and fundraisers accountable for ethical practices.
"I also think a conversation about professionalising the fundraising sector in Bermuda is well overdue and I would like to see more donors supporting professional development in fundraising. There are about 30 of us who are either full time or part time fundraisers on the island and there is a process for accreditation that all fundraisers can work towards. This is something that AFP Bermuda will be encouraging."
There is a cost of $25 for the lunch time session. To sign up for either session email afpbermuda@gmail.com or call Jennifer Burland Adams at 332.5366.
Read More About
Category: All