The Arts Centre in Dockyard, in partnership with the town of St. George's, will be holding their annual "Paint the Town" event on Sunday, November 3, with the walk itself being offset by an art competition and the unofficial beginning of the fall season at the many shops in town.
Planned and carried out by the PleinArt painters of Bermuda, the walk will give locals the chance to see local painters at work for several hours before all paintings are brought back to town in order to be judged by attendees to decide who will receive the competition's $500 prize.
Not only will those in attendance get to see various artists along Water Street and in the museums and restaurants, but there will be musical and dance performances as well. This year, Joy T. Barnum will be opening the show at 4.00pm and there will also be a play called "NACAD" written by the Famous for 15 Minutes Award winner, Catherine Hay.
Spoken word artists Vejay Steede and Laurel Monkmen have graciously accepted the invitation to perform on King's Square, and the Bermuda Carnival Revelers will be out and about dancing in their costumes. In Motion will be doing a dance routine, and there will also be a fashion show featuring clothes from local stores and a new vintage store called Dolly Pop.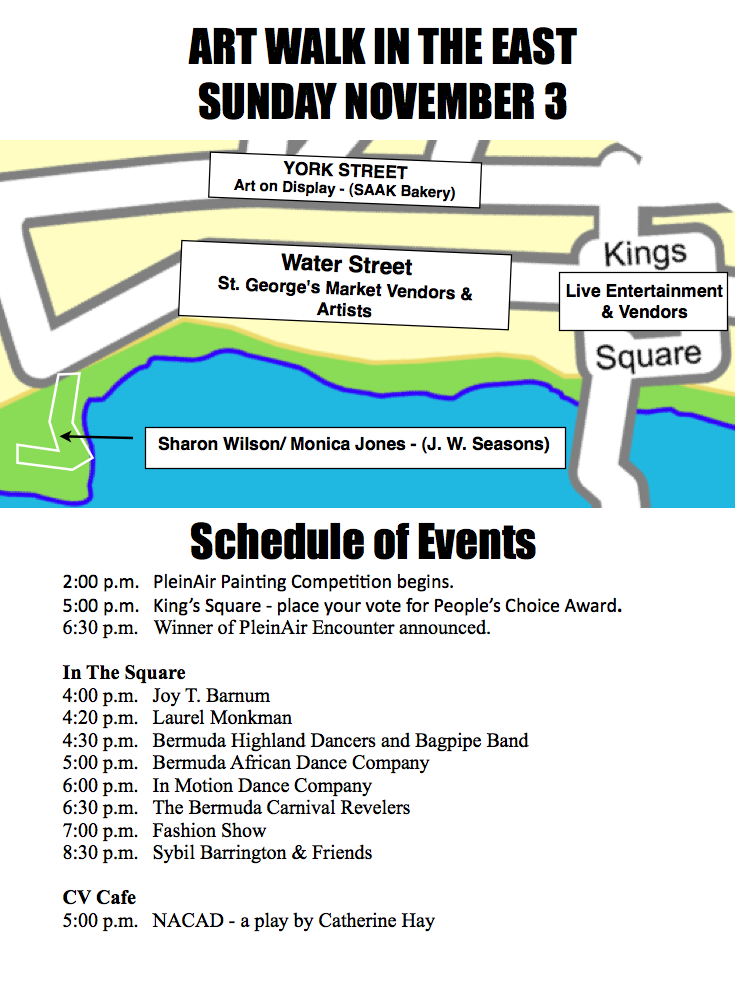 The event will begin in King's Square in St. George's at 2.00pm on Sunday, November 3, with judging for the competition taking place in the square at 5.00pm and festivities carrying on into the evening.
Read More About
Category: All, Entertainment