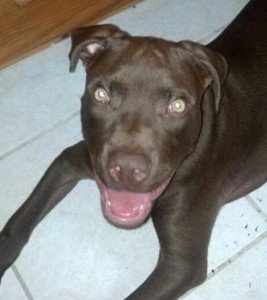 [Updated: The family said Hershey was put down this afternoon. The Environment Minister confirms the dog was put down, and said the dog policy as it stands is the law. The dog's owner strongly disputes the Minister's statements about shipping the dog overseas]
The group working to save a pit bull from being euthanized said they "believe they may be preparing to begin the process of putting him down."
After being stolen from his family the pit bull — named Hershey and pictured left — was recovered by the police and handed over to Animal Control.
The Government refused to return the dog as it is a banned breed, saying "The dog is an illegal dog, and thus cannot be returned to the original owner."
"The theft and recovery of the animal does not legitimize the animal, and thus it is subject to the provisions of Section 7D of the Dogs Act 1978," said the Government.
Part of the section of the law [PDF] the Government quoted says, "The dogs shall be forfeited to the Department and the Director may seize the dogs and destroy them or otherwise dispose of them in such manner as he sees fit."
A public campaign, spearheaded by Gage Miller, was launched and achieved support both on the island and overseas. An online petition [link] was launched, and as of this writing has close to 2000 signatures.
We have asked the Government if they are, in fact, preparing to put Hershey down and will update as able.
Update 5.13pm: According to the family, Hershey was put down this afternoon. Reyel Bowen said that the authorities emailed and informed his mother a short while ago.
Update 5.25pm: Gage Miller posted on our Facebook page saying, "It is with an undeniably heavy heart that I regret to inform you that we have been notified that Hershey has been put down.
"We will prepare something for tomorrow, but for now we ask just for your words of encouragement towards the family at this time.
"We will still be pushing forward with our efforts to request amnesty to help reach the other dogs at risk under this ban. Thank you all for for your support and help. May God Rest His Soul. RIP"
Update 7.32pm: Asked to respond, Environment Minister Sylvan Richards told Bernews, "It was an illegally breed pit bull, bought under illegal circumstances."
"I have a heart, I am animal lover myself, however as the Minister I instructed my dog wardens to enforce the dog policy as it is…which basically states that if the dog wardens come into contact with an illegally breed dog they are to confiscate the dog and the dog is to be euthanized."
"In Hershey's particular case we made an offer to the owner that if they could find someone outside Bermuda to adopt the dog then the dog could have been shipped overseas," continued Minister Richards.
"The information I have been given by my officers, my dog wardens, is that the offer was not taken up. Therefore under the law the puppy had to be euthanized, and the puppy was euthanized."
"I have impaneled a canine advisory committee who has been looking at the entire dog policy over the last few months and they will advise me in the near term, on what our dog policy should look like going forward.
"However the dog policy as it stands is the law, and the law will be enforced," said the Minister.
Audio of the Minister's full comments below:
We previously reported that the family were looking at options of trying to have the dog shipped overseas. We are waiting for a response from the group/family to the Minister and will update as able.
Update 7.57pm: Ms Gina Davis, the mother of the family that owned Hershey, very strongly disputed the Minister's claim that they did not take the offer up to ship him overseas.
"We were the ones who offered to send the dog overseas, they never responded," said Ms Davis. "They never offered to us, we offered them, and they never got back to us."
Ms Davis said Gage Miller offered to pay for the dog to be shipped overseas, and said "Not a single person has called and made the offer that we could send him overseas, as if so the dog would have been gone."
"In fact it was always our hope, that if nothing else, he could leave Bermuda. One reason for the petition to save his life," said Ms Davis.
Update Dec 7: In a comment left below, Ms Davis said, "There was no need to raise funds to send the dog overseas. I would have gladly paid for that myself. Besides, there was an offer to take Hershey overseas with full expenses paid.
"On December 3, when Hershey was taken to the impound, Gage Miller, a Bermudian living overseas offered to take him and was told no. I asked a politician about the ability to send Hershey overseas and was told that no policy exists.
"When I spoke to a dog warden and told him I had an offer by someone who would take him, he told me to ensure the place was reputable, because many rescue places are not such. However, Hershey was offered a home."
The full original statement about the petition/amnesty request follows below:
I know all of you are eager for an update on what's going on with Hershey, and what our plans are moving forward, with the movement to ultimately change the current legislation regarding the ban.

I am happy today to announce major updates and announcements on both of those issues:

Update On Hershey:

As of this morning we can confirm that Hershey is alive and well, but are sad to report we believe they may be preparing to begin the process of putting him down.

We understand that having the legislation examined, debated, and ultimately changed can, and more than likely will, take some time. The dilemma is obviously the fate of Hershey in the mean time, as well as other dogs out there in the same position, as until the legislation is changed they are still classified as an illegal breed and thus at risk of facing the same fate as Hershey.

After much brain-storming, research, feedback from the general public, along with excellent advice that has poured in from relevant experts showing their support for this issue:

I am pleased to announce that in a collaborative effort between the family members of Hershey, Bermuda based Pit Bull advocacy group "Our Misunderstood" and myself, we are excited to announce the following plans to move forward:

• On Friday, December 13th 2013, We will be officially submitting this petition alongside a formal request for a one time amnesty for all dogs that currently exist, and full under the classification of an illegal breed within the shores of Bermuda. The amnesty, if approved, would allow responsible dog owners of currently banned breeds a period of time in which they would be able to come forward, have their dog's neutered, micro chipped, and properly licensed without fear of prosecution or seizure of their dog.

It is our position that this amnesty satisfies three key issues:

- The Amnesty protects and respects the rights of the dogs and their owners: Through allowing responsible dog owners of currently banned breeds to come forth, and take the proper steps necessary to legally own their dog, without fear of prosecution in the process of doing so.

- The Amnesty protects and respects the rights of the general public:
Through the process of having the current population of illegal, undocumented dogs getting properly documented, spayed/neutered and monitored by Bermuda Animal Control. We believe this serves as a humane and fairly balanced solution to controlling the existing population.

- The Amnesty protects and respects the rights of Animal Control and the Bermuda Government:

Until the legislation is changed Animal Control is under direct authority of the Bermuda Government, who must follow current legislation. This amnesty serves as an opportunity and legitimately viable solution for the Bermuda Government to address and assist with the efforts of this movement without breaking any current standing legislation.

• On Saturday, December 14th 2013 at noon (location pending) there will be a rally for supporters of our movement to end the current breed ban. We are inviting pit bull owners, animal advocates, dog trainers, local veterinarians, and animal lovers to come out for the event. It will be an amazing educational opportunity for all who attend. You will be able to meet first-hand some of these stereotyped breeds and learn why their owners feel so passionate about their fight for the breed. We are gathering resources to also provide to any owners who want to take further responsible steps with their pup including information on spaying/neutering, training, socializing, health care, and more. You won't want to miss this!

We have put forth an enormous amount of thought and effort into putting this plan together, we truly hope and believe that it will serve as a fair and balanced solution to all sides of this issue.

More importantly we would like to take this opportunity to thank you for your support and relentless outcry of injustice for these dogs. You are each individually responsible for already greatly impacting Hershey's life alongside the lives of many other dogs just like him, and you should all be very proud and humbled by that fact, for without you he wouldn't be alive today.

In continuing that level of commitment and support we hope you will continue to stand with us and assist with the following:

-Keep Spreading the link to this petition, the more people we get on it, the more impact it will have once it is submitted for review to the Members of Parliament.

-Come out and show your support on the Friday when the petition and request for amnesty are handed to Parliament.

-Come out and join us on Saturday and help spread the education of proper dog ownership and training, and show your support for the release and amnesty of Hershey and all dog's like him.

We think it is vital to hear and understand what the public is saying. We've noticed that quite a lot of people are talking about this on various comment sections throughout the Internet, and we want to provide a way to centralize all of this valuable input and make sure you have the chance to voice your opinion/concern on this matter.

That's why we've created the following email: bermudabanforum@gmail.com

We are inviting you to send your opinions, suggestions, give feedback or find out how to get further involved with this movement, send an email there and someone will respond. This is also where we will be centralizing all media related inquiries.

In Closing:

We understand that the ultimate goal here is to change the legislation, but we are hoping that this amnesty will serve as a temporary solution to the issue of currently illegal, banned breed dogs. We believe it is fairly balanced in it's approach, and serves to satisfy all sides of this issue.

We thank you again for your unbelievable level of support and commitment to helping impact the lives of dogs and their owners all across the island. Keep sharing this petition with everyone, spread the word, and get involved!

We will simultaneously post all updates and relevant information on this website as well as on Our Misunderstood's Facebook page which can be found at:

https://www.facebook.com/OurMisunderstood

The full official request for the amnesty will be available to view and download online in the following days to come.

Thank you.
-
Read More About