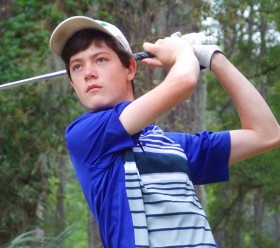 Bermuda's Walker Campbell continues competing at the Junior Orange Bowl Golf Championships in Florida, where he has moved up the leaderboard.
Campbell shot a Second Round 5-over par 76, moving up from his starting position of 43rd to T40th.
Italy's Renato Paratore took charge of the second round of the Boys Division, 67-67, [134, -8] to open up a 4-stroke lead over Venezuela's Jorge Garcia, Belgium's Alan De Bondt and Chile's Guillermo Pereira.
Overnight leader Renato Paratore slipped into a tie for 5th place with a lackluster 73, explaining, "it was a day when my putter simply wouldn't cooperate at all."
Austria's Gerold Folk leaped into contention with a best-of-the day 66, Paratore and De Bondt posting 67s.
Campbell started out on the Front Nine and ran off four consecutive Pars, before recording a Double Bogey on the par 4 fifth, a Bogey on the sixth saw him move to 3-over par, but Campbell recorded his first Birdie of the Championships on his twenty-fifth hole, it came on the par 4 seventh, Campbell closed out the front nine with back to back Pars to make the turn at 2-over par.
On the Back Nine Campbell started out with a Par on the tenth, before recording another Double Bogey on the par 4 eleventh. Campbell ran off five consecutive Pars, before shooting a Bogey on the par 4 seventeenth and then he closed out with a Par on the eighteenth.
Walker Campbell's Junior Orange Bowl First Round Scorecard
1 – 5 – Par
2 – 3 – Par
3 – 4 – Par
4 – 4 – Par
5 – 4 – Double Bogey
6 – 4 – Bogey
7 – 4 – Birdie
8 – 3 – Par
9 – 4 – Par
Campbell made the turn at +2
10 – 4 – Par
11 – 4 – Double Bogey
12 – 3 – Par
13 – 4 – Par
14 – 3 – Par
15 – 5 – Par
16 – 4 – Par
17 – 4 –Bogey
18 – 5 – Par
Campbell completed his Second Round at +5
Read More About