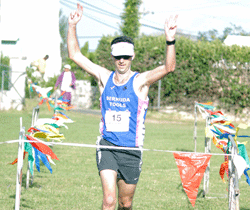 The 2014 Eastern Counties Relay Classic took place this weekend, starting from the St. David's Cricket Club and finishing on the field of Flatt's Victoria.
The Bermuda Tools team of Adam Hopkin, Tim Goodyer, Peter Gracey and John Thompson led from start to finish as they recorded a time of 1:04:56.
Taking second place overall with a time of 1:10:51 was the Island Warriors team of Dean Smith, Mark Outerbridge, Jennifer Allen and Cynthia Millett.
Third overall was the Partner Re team of Randolph Smith, Jose Lopez, Joe Barbosa and Phil Martin, they recorded a time of 1:13:59.
2014 Eastern Counties Relay Classic Results:
1:04:56 Bermuda Tools
1:10:51 Island Warriors
1:13:59 Partner Re
1:15:08 Three Girls & a Prego
1:19:27 Weekenders
1:22:33 Flatts
1:24:13 Bailey's Bay #1
1:32:27 Paget Plodders
1:37:45 Three Guys & a Girl
1:44:51 Three B's & a W
1:46:49 Bailey's Bay #2
Read More About