The Bermuda Kennel Club [BKC] Championship All-Breed Conformation Dog Shows, held in October 2013, were nominated by the UK Kennel Club as qualifying shows for Crufts 2014.
Crufts is one of the largest dog events in the world with 21,500 dogs entered. It is held in the U.K. under the rules of the prestigious Kennel Club, at the NEC Birmingham, March 6-9.
The qualifying classes from each of the four Bermuda shows were: All Group Winners [1st's], Best Puppy in Show and Best Veteran in Show. Eleven dogs in total qualified at the 2013 Bermuda Dog Shows.
Bda Ch. Ulmarra Tropical Ice at Winton [Kali] at the 2013 Bermuda Dog Shows with Judges from left to right: Mrs Janet Lobb [Canada], Dr Espen Engh [Norway], Mr Joe Lobb [Canada] and Handler Mr Shelby Williams [holding the dog]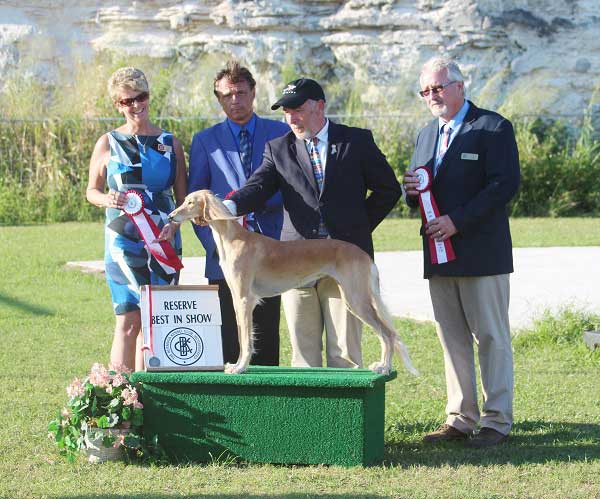 This is the second time that Kali & Kathy will be going to compete and represent Bermuda. Kali will be competing against 140 Salukis from around the world [67 dogs and 73 bitches] This year she will be handled in the ring by Shelby Williams with about a dozen or so Bermuda people going to support them and enjoy this huge dog event.
Read More About
Category: All