The Bermuda Business Development Agency [BDA] has added four new positions to strengthen their marketing, communications and event planning capabilities.
The new hires are: Shane Mora, Director of Corporate Communications; Yvonne Decosta, Marketing Manager; Nicole Conrad Morrison, Events Manager; and Sophie Burt, Office Administrator.
Mr. David Cash, Interim BDA CEO, comments, "The BDA is delighted with the new members of our team which will allow us to better support the expansion of existing international businesses and in attracting new business entities to Bermuda.
"These new roles reflect the evolution taking place at the BDA where we will be significantly increasing international PR reach and marketing presence – more than ever Bermuda needs to be present and make an impact on the international stage.
L-R: Sophie Burt, Carmen Adebiyi, Marsha Foley, Clare Spearing, Yvonne Decosta, Shane Mora and Nicole Conrad Morrison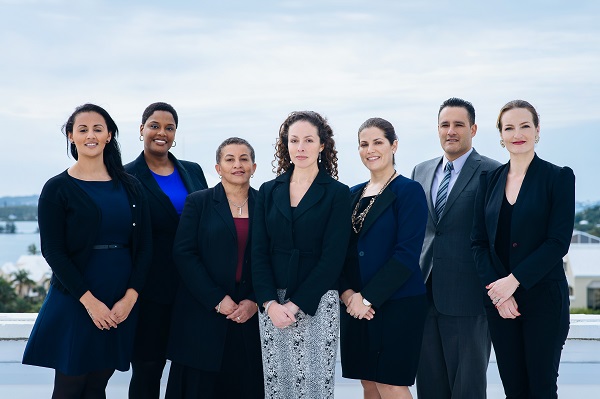 "The previous evolutions of the BDA marketed Bermuda alongside industry members for many years at targeted key events and worked with local and international media," added Mr. Cash.
"This expanded team will support and enhance Bermuda's presence in addition to expanding it and will ensure that the Bermuda message reaches more of the right audience in a focused and strategic manner by working closely with our stakeholders – the international business community, the Government and the Bermuda Monetary Authority.
"Now that we have this team in place, we are working towards establishing a dedicated international business development team that will both actively target strategic new business and also facilitate the growth of our existing international business sectors already thriving in Bermuda. The recruitment of the business development team is underway and we look forward to making announcements in the very near future."
A spokesperson said, "The BDA is proud to bring additional Bermudian talent on board and its team now consists of seven Bermudians and one spouse of a Bermudian. A significant portion of the job responsibilities were formerly outsourced to overseas partners."
Mr. Cash explains, "In the past, the BDA's founding organisations worked with several overseas firms to assist with publicity and event management. Our reliance on overseas vendors is now greatly reduced – indeed almost eliminated in most cases – as we are well positioned with an expanded team of Bermuda talent which will capably fulfill those services."
The new team members are joining existing BDA staffs:
David Cash, Interim CEO
Clare Spearing, Head of Operations
Marsha Foley, Finance Manager
Carmen Adebiyi, Head of Member Services
Read More About