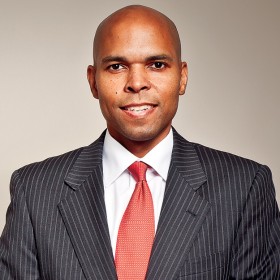 Minister of Tourism Development & Transport Shawn Crockwell today [Apr 3] responded to what he termed "misleading and incorrect allegations" concerning the Department of Marine and Ports made by Shadow Transport Minister Lawrence Scott.
Minister Crockwell said: "Mr. Scott has claimed that, 'The Minister's repeated refusal to meet with the workers regarding their grievances has worsened already strained relations between management and the workers.'
"Clearly Mr. Scott doesn't understand how the Civil Service operates, and that Ministers should not be involved in staffing matters. This is why there is a hierarchy in the Civil Service and separation of the roles of elected officials and management within the Civil Service."
Mr. Scott said that the "reported creation of new posts within the Department, seemingly tailored for non-Bermudian workers, while ignoring the capable, qualified Bermudians in the department has generated a major concern among the staff."
In response, Minister Crockwell said: "Mr. Scott has received incorrect information. The posts in question are not new but reflect managerial changes commenced over two years ago – and recently demanded by the Bermuda Industrial Union – to realize improvements in ferry fleet operational oversight and the Department's fleet maintenance decision making generally. Both posts were advertised locally.
"They have now been advertised overseas as no suitable local applicants were identified in accordance with Public Service Commission hiring guidelines. It is expected that any contracted future post holders with the required qualifications and experience will also be required to mentor and train any suitable local employees with development potential."
Mr. Scott also said the "…seeming penalizing of workers who participated in strike action by the withholding of their pay beyond the normal deductions that have been traditionally been made for previous industrial action."
Minster Crockwell responded: "It is fitting that Mr. Scott used the word 'seeming' as his allegation has no basis in fact. The issue of pay following industrial action was resolved at a recent meeting between the BIU and Marine and Ports Management."
Concerning the charter ferry Millennium, Mr. Scott said: "Minister Crockwell promised that the Millennium would depart the island at the conclusion of the 2013 season, a promise that was subsequently broken as the Millennium only left last week."
Minister Crockwell responded: "Had Mr. Scott taken the time to make a simple inquiry, he would have been told that the Millennium was simply delayed from departing Bermuda due to the sudden onset of winter weather.
"I can confirm that she departed ahead of a limited weather window at first light Friday, March 21st to return safely to the United States for routine scheduled out of water maintenance work.
"Perhaps Mr. Scott also failed to realize that chartering of the Millennium was the former Government's idea, which we supported. MP Terry Lister, who is a former Transport Minister, has consistently applauded the use of the Millennium.
"I can add that the chartering of the Millennium ensured we provided excellent transportation for our visitors during the past season and allowed the Department to institute a much needed maintenance programme on our local fleet of ferries."
Minister Crockwell added: "My only hope going forward is that Mr. Scott takes the time to find out the facts before sending out misleading and inflammatory accusations to the media which serves no other purpose than to try and distract from the good work this Government is doing to revive our economy and provide jobs for Bermudians."
Read More About