[Updated] PHC will be hosting a Community Fun Day on Good Friday [April 18], with the theme of  "Building a Strong Community One Step at a Time."
A spokesperson said, "PHC is looking to serve the community in another positive way by bringing back a sense of togetherness over the holiday period. We look forward to fun-filled day that will have attract a cross section of the community.
The Community Day will take place at PHC field and entail a host of fun activities for all ages. The day's events will begin at 9am with a 1 mile fun run/walk from Lindos [Warwick] to PHC field. Prizes will be awarded to the top male and female runners in the following categories: Primary School, Middle School, Senior School, Adult Open and Masters [50 and over]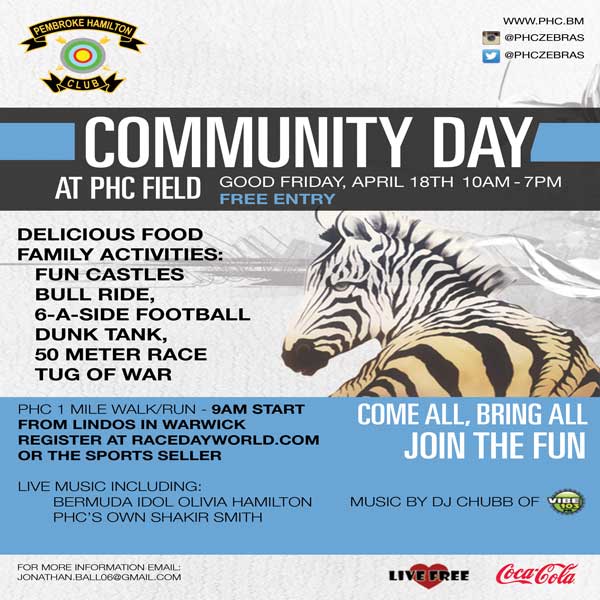 PHC will make a donation of $150 to the physical education department of the primary, middle, and high school with the most entrants [minimum 10 entries].
Registration forms and the drop box for the PHC fun run/walk are available at the Sports Seller in Washington Mall. For convenience, you can also register online. The early bird entry fee is $10 for adults and $5 for juniors under the age of 18. The entry fee after April 9th 2014 will be $15. PHC encourages all participants to enjoy the host of entertainment that will begin shortly after the run/walk.
From 10am at PHC Field, the Community Day will begin in earnest. Some of the activities planned include fun castles, a bull ride, food stalls, 6-a-side football, kite flying, and much more!. DJ Chubb will be playing music during the day along with a special guest DJ. Bermuda Idol winner Olivia Hamilton will perform along with PHC's own Shakir Smith.
The Community Day is being organized by PHC's Going Home committee. The purpose of the Going Home committee is to raise funds so that PHC can fully utilize its field in Warwick. The infrastructure needs entail fencing, bleachers, restroom facilities, and upgrade to the lightning system. The aforementioned items will assist PHC to better serve the Warwick community and the island at large.
For additional information on PHC's Community Day check out PHC's website, Instagram, or Twitter page.
Update Apr 2: Audio commercial for the PHC Community Fun Day:
Read More About
Category: All, Entertainment