Bermuda's Nick Kyme will take on former World Number One and Squash's hardest hitter John White in front of a sellout crowd in the Randall & Quilter Legends of Squash Bermuda next week [Apr 9-12].
Kyme is no stranger to this type of high profile match having twice played world number ones in Bermuda before. In 2005-06 he took on David Palmer and Thierry Lincou respectively pushing Lincou hard in the PSA Bermuda Masters event.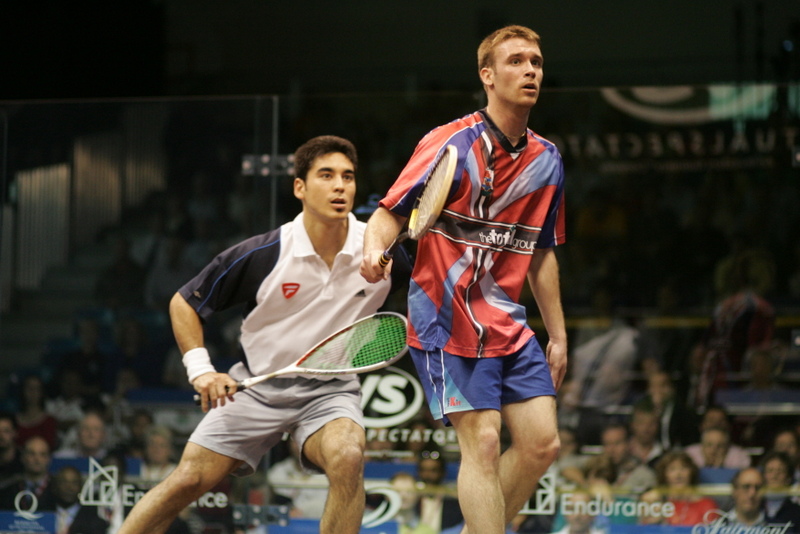 This match with White should be spectacular though with White widely recognized as the hardest hitter in squash with shots clocked at 176mph.
Nick Kyme said, "I'm so up for this event, it's a thrill to play these guys and I'm going to do my best to pull off a big win for Bermuda"
The Randall & Quilter Legends of Squash event starts on Wednesday 9th April and features six former world number ones in 4 days of competition. The draw includes the legendary Peter Nicol, world number one for an incredible sixty months.
Jonathon Power, North America's greatest ever player and Commonwealth Games Gold Medalist. Thierry Lincou, France's former number one and world champion and David Palmer the double world open champion and four time British Open winner.
The stars have a busy week with a full schedule of children's and adult coaching clinics as well as some private one on one sessions for local squash enthusiasts.
BSRA Director of Squash Patrick Foster commented "We are thrilled to have the Legends coming to Bermuda. The kids are excited to get on court with them and everyone is really looking forward to watching the players in action each night"
The Randall & Quilter Legends of Squash event is completely sold out however the matches will be live streamed online at www.islandstats.com for those who have missed out on a ticket.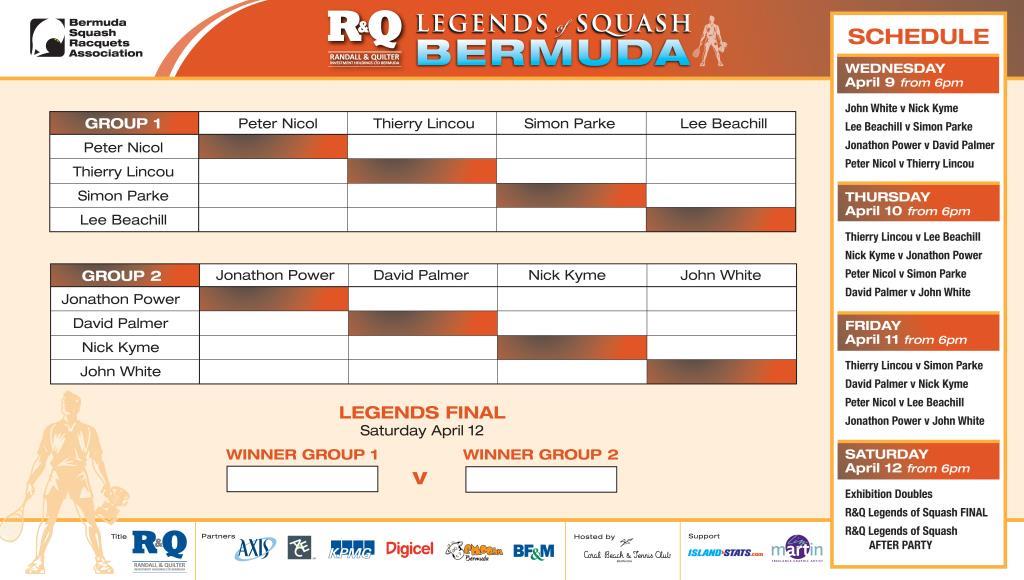 Bermuda National Squash Champion and current World #162 Micah Franklin gives his views on the draw in Franklin's Focus saying, "Watch out for the Palmer v Power match on opening night! I watched these guys play here in Bermuda for 80 minutes a few years ago and it was awesome!"
"Another favorite of mine will be the Power v White match on the Friday. Two of the best shot makers in the game and one not too miss"
The Randall & Quilter Legends of Squash will be held entirely at the BSRA, Devonshire with matches starting each night from 6pm. The 8-man draw is split into 2 groups of 4 playing round robin format over 3 days, April 9-11.
The winners of the two groups will compete in the Legends finals to be held Saturday April 12. Visit the official Randall & Quilter Legends of Squash page for all event information.
Read More About