Troika Bermuda is getting set to host its 2014 Bermuda Glee auditions, giving aspiring actors the opportunity to join forces with their peers in creating an original piece of musical theatre.
Bermuda Glee is a seven day performing arts intensive designed to bring students and teachers from the public and private high schools together to create an original piece of musical theatre for presentation to the Bermuda community.
Established by The Argo Foundation in 2011, the program was proposed to provide a unique experience that would break down barriers in Bermuda among the youth, in turn fostering collaboration and partnership. Through collaboration, the program enables the development of new relationships that support Bermuda's continued growth as a multiracial, multicultural society.
The program annually attracts over 70 participants, consisting of students between the ages of 13 and 18 years old. This year's program will run from June 28 through July 5, 2014.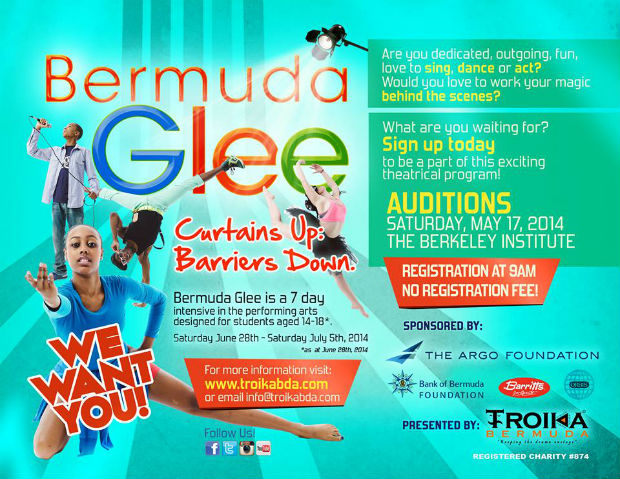 This year's auditions will be workshop style. Participants will be auditioned in groups and will participate in vocal, dance, and acting exercises as part of the process. Each audition block is only 90 minutes and participants will be expected to stay for the entire length of time.
The Bermuda Glee information sheet [PDF here] says that all participants should come with a positive attitude and a willingness to participate.
The Bermuda Glee auditions, open to all students 14 to 18 years old, will be held on Saturday, May 17 at The Berkeley Institute, with the first audition block running from 10.00am through 11.30am and the second audition block running from 12.00pm through 1.30pm.
For more information about Bermuda Glee, visit the official Troika website or their Facebook page.
Read More About
Category: All, Entertainment