June 23 is recognized by the United Nations as International Widows Day, a day created to highlight the plight of the many women around the world whose homes, possessions, and even children face adversity once the word "widow" applies to them.
In honour of the day, Widows Wear Stilettos [WWS] is reminding widows in Bermuda that there is a local support group able to assist them in healing and moving forward.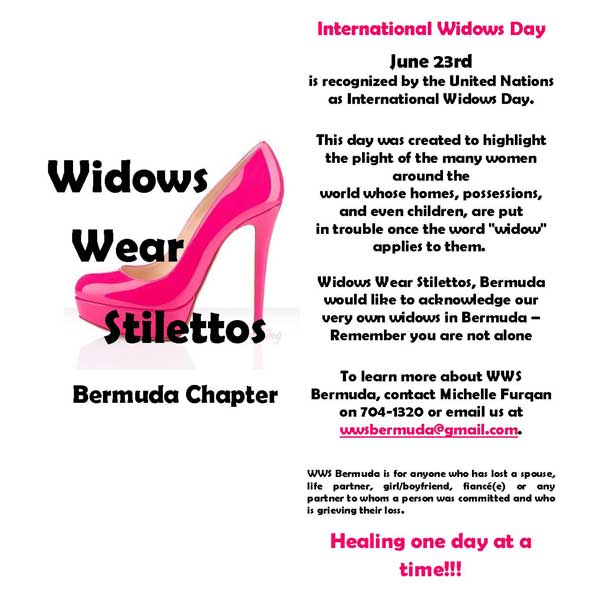 A spokesperson said, "Widows Wear Stilettos Bermuda would like to acknowledge our very own widows in Bermuda – remember you are not alone. Widows Wear Stilettos Bermuda is for anyone who has lost a spouse, life partner, girlfriend, boyfriend, fiance, or any partner to whom a person was committed and who is grieving their loss."
Widows Wear Stilettos, Inc. is a global support organization that has provided education and support to the widowed community since it was founded in 2006.
The idea to launch the Bermuda Chapter sadly came out of a tragedy, as founder Michelle Furqan lost her husband Bilal after 14 years of marriage. He was injured during a diving accident at Admiralty House in 2011, and lost his battle for life a few days later.
Mrs. Furqan said, "In Bermuda, it is our desire to share the spirit of hope and healing with as many widows as possible. We are dedicated to assist an overlooked portion of the population by providing support, education, healing, caring, sharing and strength."
For further information, please contact the local facilitator Michelle Furqan via telephone at 704-1320 or via email at wwsbermuda@gmail.com, or visit them on Facebook.
Read More About
Category: All