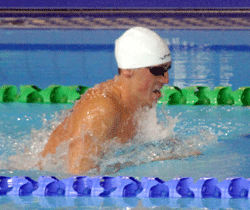 Bermuda swimmer Julian Fletcher bowed out in the semi-finals of the 100m Breaststroke at the 2014 Commonwealth Games in Glasgow, Scotland. Competing in Heat One of the semi-finals Fletcher clocked a time of 1:04:48 finishing 8th in the heat.
Fletcher, earlier in the day reached the semi-finals competing in Heat 5  of the Men's 100m Breaststroke at the Tollcross International Swimming Centre touched the wall in a time of 1:04.92. His time saw him finish 6th in the Heat and 16th overall and advanced him to the semi-final.
In squash action, Robbie Maycock won his first round Plate match in straight sets 11-2, 11-5, 11-5 over Ian Rukunya from Uganda. Nick Kyme won his First Round Plate match in straight sets 11-6, 11-4, 11-7 over Madako Junior Suari from Papua New Guinea.
Maycock next took on Hardeep Reel from Kenya going down in a four set battle, 11-9, 7-11, 11-8, 11-9, Kyme won his next match in straight sets 11-8, 11-4, 11-4 over Scott Gautier from Jersey.
Read More About