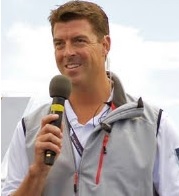 [Written by Talbot Wilson] America's Cup TV commentator Tucker Thompson will be in Bermuda this October to provide color commentary for the 2014 Argo Group Gold Cup.
Sailing for the 64th match for the King Edward VII Gold Cup Trophy will begin on October 21 in Hamilton Harbor. Thompson will join Scott Dickson on on Friday to cover the Quarter Finals, Semi Finals and conclude with the Finals on Sunday October 26. For event details and results, see argogroupgoldcup.com.
Thompson was part of the team that brought the historic America's Cup 34 event to life for millions of international TV viewers. He is a professional sailing TV and video host, producer, racing sailor, performance sailing coach and writer from Annapolis, MD.
Thompson commented on his return to Bermuda for the 2014 Argo Group Gold Cup, "Last year I was one of the live announcers for the America's Cup and the host of the Half-Time Show for the worldwide TV feed and NBC SportsNet coverage of the Cup in the US. I worked alongside my good friend Andy Green with whom I started my professional sailing and ultimately America's Cup TV career 18 years ago at The Bermuda Gold Cup.
"I competed in the Gold Cup twice with Andy as a crew and once as a helmsman. I have also covered the Gold Cup on TV. In fact, it was at the Royal Bermuda Yacht Club where Andy and I first discussed and dreamed of doing the America's Cup TV. Since that first event I have sailed professionally all over the world, competed on an America's Cup team in New Zealand, started a sailing video production company, and covered two more America's Cups on TV.
"Essentially, my career started with the Gold Cup, and that event is, in my opinion, the essence of sailing at its best. It is one of the best run match race events in the world, the conditions are fantastic, and most of the top sailors in the world have competed in the Gold Cup.
"It's no wonder Bermuda is being considered to host the America's Cup. As an America's Cup TV announcer coming back to Bermuda to cover the Cup would bring my career full circle to where it all began. I can't think of a better opportunity.
"To me Bermuda is very special, and I look forward to coming back to the Gold Cup this year as an event announcer with my friend Scotty Dickson."
Scott Dickson, a New Zealand sailor and champion match racer in his own right, has become the voice of the Argo Group Gold Cup. He has been the commentator for many years and will be on the water calling all the action from the first racing on Tuesday October 21 right through to the finals. He and Tucker Thompson will be dynamic analysts for the 2014 matches on finals weekend.
The 2014 Argo Group Gold Cup will be sailed with the same 20-team format used in 2013. This Argo Group Gold Cup format is unique on the Alpari World Match Racing Tour. It allows for two 10-team groups. Skippers in each group are ranked and divided by Alpari World Match Racing Tour officials and the organizers at the Royal Bermuda Yacht Club.
Rankings in the groups are based on AWMRT and ISAF rankings and other performance factors. Each group will sail a round robin with their top four teams moving directly to the Quarter Finals.
Alpari World Match Racing Tour Card Holders for 2014 include Francesco Bruni [ITA] Luna Rossa, Bjorn Hansen [SWE] Hansen Sailing Team, Taylor Canfield [ISV] USone, David Gilmour [AUS] Team Gilmour, Mathieu Richard [FRA] Luna Jets, Phil Robertson [NZL] WAKA Racing, Keith Swinton [AUS] Team Alpari FX, and Ian Williams [GBR] GAC Pindar.
Read More About