[Written by Talbot Wilson] One flight of the Quarter Finals was sailed Friday afternoon following the completion of the Qualifying Rounds and the selection of opponents and draw for boats.
The Quarter Finals set Ian Williams against Marek Stanczyk, Taylor Canfield against Steffan Lindberg, Eric Monnin against Pierre Morvan, and an all Swedish pairing of Bjorn Hansen against Johnie Berntsson. One match was sailed on Friday before the pro-am sponsor racing.
A school of Umpires consult between races in the final flights of the Qualifying Round Robin at the 2014 Argo Group Gold Cup, Stage 6 of the Alpari World Match Racing Tour. Qualifiers are Ian Williams, Taylor Canfield, Steffan Lindberg, Marek Stanczyk, Eric Monnin, Bjorn Jansen, Johnie Berntsson, and Pierre Morvan.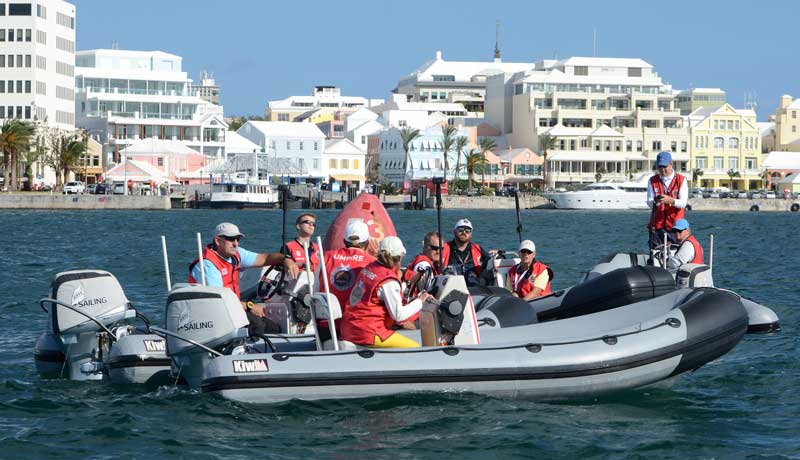 The Quarter Finals are a first to 3-point knockout. Four winners will move on to the Semi Finals and four will go to the Consolation Round to decide places 5-8. Standings after 1 flight are
Ian Williams – 1 ; Marek Stanczyk – 0
Taylor Canfield 1 ; Steffan Lindberg – 0
Eric Monnin – 1 ; Pierre Morvan – 0
Bjorn Hansen – 1 ; Johnie Berntssen – 0
Qualifying Round completed
Earlier in the day, Ian Williams [GBR] GAC Pindar, top seed in Group 1, finished the Argo Group Gold Cup Qualifying Round with a perfect 9 wins. His only blemish in the first three days of Stage 6 of the Alpari World Match Racing Tour was a half-point deduction for his damage collision with Francesco Bruni [ITA] of the Luna Rossa America's Cup Team. For finishing first in Group 1 Williams got to pick from the other seven qualifiers for the Quarter Finals.
Taylor Canfield [ISV] US One, who only lost his initial match of the competition and had eight wins in a row, led the other seven qualifiers. Eric Monnin [SWI] Swiss Match Racing Team, Bjorn Hansen [SWE] Hansen Sailing Team, Marek Stanczyk [POL] Henri Lloyd Rainmaker Racing, Staffan Lindberg [FIN] Alandia Sailing Team, Pierre Morvan [FRA] Vannes Aggio Sailing Team, Johnie Berntsson [SWE] Stena Sailing Team.
Three of the Quarter finalists are previous King Edward VII Gold Cup Winners. Williams won in 2006, Berntsson in 2008 and Canfield in 2012. Two other previous winners— Mathieu Richard [2007] and Francesco Bruni the defending champion— failed to make the cut.
Three of the Alpari World Match Racing Tour Card Holders lead the Quarter Final competition— Williams, Canfield and Hansen. The other five failed to make the Quarter Final cut— Richard, Swinton, Robertson ,Gilmour, and Bruni.
Current results are posted online .
Sailing starts again on Friday at 9:00 ADT with the remaining Qualifying matches.
Saturday – Winds southwesterly 10 to 15 knots, decreasing 5 to 10 knots by the afternoon, veering northeasterly by the evening, increasing 10 to 15 knots with gusts to 25 knots around showers overnight… Scattered to widespread rain and showers arriving by evening, mainly to the south, with a chance of thunder and fair to poor visibility… Seas inside the reef 1 to 2 ft…
2014 Alpari World Match Racing Tour Standings after Stage 5
1 Ian Williams [GBR] GAC Pindar 94pts
2 Taylor Canfield [ISV] US One 88pts
3 Mathieu Richard [FRA] LunaJets 76pts
4 Bjorn Hansen [SWE] Hansen Sailing 63pts
5 Keith Swinton [AUS] Team Alpari FX 58pts
6 Phil Robertson [NZL] WAKA Racing 56pts
7 David Gilmour [AUS] Team Gilmour 39pts
8 Francesco Bruni [ITA] Luna Rossa 20pts
Photo Courtesy: Talbot Wilson
Read More About