[Written by Talbot Wilson] The 2014 Argo Group Gold Cup Quarter Finals were completed Saturday morning and the Semi Finals, Petite Finals and Finals will all be sailed on Sunday. Ian Williams [GBR] GAC Pindar and Eric Monnin [SWI] Swiss Match Racing Team came through the quarters with 3-0 scores. Williams, the Alpari World Match Racing Tour leader at 12-0 is undefeated in all his races.
Racing in the Quarter Finals was postponed from today's schedule when what little wind there was, dropped away completely. Sunday will be starting one hour earlier, almost dawn in Bermuda.
In racing on Day 4 of the 2014 Argo Group Gold Cup. Ian Williams, Taylor Canfield, Johnie Berntsson, and Eric Monnin went through to the Semi Finals. Photo credit: Talbot Wilson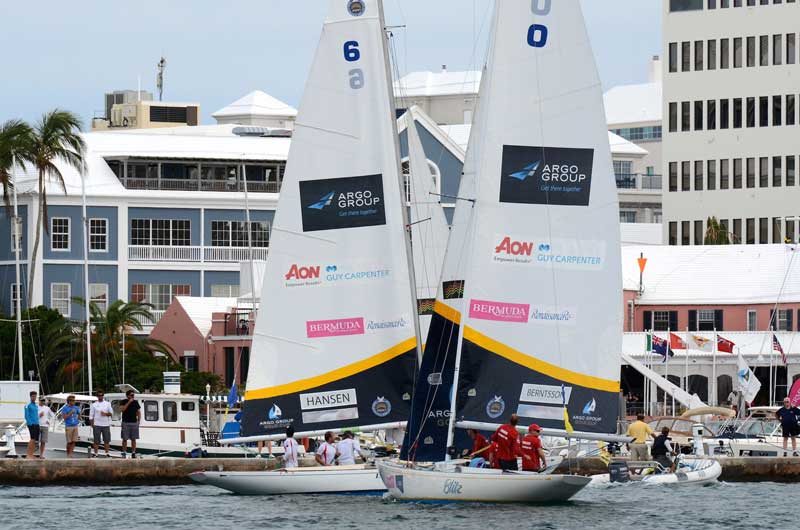 The Quarter Finals pitted Williams against Marek Stanczyk [POL] Henri Lloyd Rainmaker Racing, Taylor Canfield US One against Staffan Lindberg [FIN] Alandia Sailing Team, Monnin against Pierre Morvan [FRA] Vannes Aggio Sailing Team, and an all-Swedish pairing of Bjorn Hansen [SWE] Hansen Sailing Team against Johnie Berntsson [SWE] Stena Sailing Team.
The Quarter Finals were a first to 3-point knockout. The Four winners move on to the Semi Finals and four will go to the Consolation Round to decide places 5-8. Standings after 1 flight are
Ian Williams 3 Marek Stanczyk 0
Taylor Canfield 3 Steffan Lindberg 1
Eric Monnin 3 Pierre Morvan 0
Johnie Berntsson 3 Bjorn Hansen 2
Ian Williams, as the skipper with the best score in the Qualifying Round, got to pick his poison in the Semis. He has chosen to race Monnin leaving Canfield and Berntsson as the other pair. Williams defeated Monnin to win the Gold Cup in 2006, while Canfield defeated Berntsson to take the Cup in 2012. Berntsson won the Gold Cup in 2008. Is this Eric Monnin's time to shine? He has certainly been on his game all week.
Williams and Canfield have met in the Finals of the last two Tour events. They are 1-2 on the Tour and 2-1 in the ISAF World Rankings. Monnin and Berntsson are not on the Tour, but have proved their skill in sailing the IOD sloops. Williams has sailed in 10 Gold Cups, Monnin has been in 11, Berntsson has sailed 8 and Canfield has 5 to his credit.
The flight of the day had to be final race in the match between Hansen and Berntsson.
Berntsson took the win by two boat lengths and went into the Semi Finals. Locked at 2-2, Berntsson got the lead in the fifth race only to have the PRO David Campbell-James abandon the race when there was a 40º left hand wind shift. The next start went to Hansen and he led for three full legs and 90% of the final run.
Berntsson persevered and stole Hanson's wind, collapsing his spinnaker and rolling right over him to take the lead and forcing to gybe away with 100 yards left to the finish. Berntsson kept on going to the Hamilton side of the course on a nice rift of breeze while Hansen suffered on the right. Berntsson took the win by two boatlengths and went into the Semi finals.
Quotes of the Day – with Laurie Fullerton
Ian Williams, 10th Gold Cup
"We are going into the Semi Finals undefeated so this is pretty great. It is always great to be here in Bermuda. We have had a full range of conditions this week.
We think that the key to doing well in the Quarter Finals have been our starts. We have been slightly ahead over the line and the starts have just been critical. When the air is light like this, it takes a long time to build speed but we feel we have done well in that. Flying a spinnaker at the start of today's race gave us that extra speed we needed. That comes from a lot of years being in Bermuda and sailing in light air like this.
We made the difficult choice to sail against Eric Monnin in the Semi Finals. In this event, once you get to the semis every competitor is strong. We won the Gold Cup in 2006 sailing against Eric, so we thought we would make that choice."
Eric Monnin, 11th Gold Cup
"This is my 11th Gold Cup and we sail well in this lighter breeze – this is what we like and I don't think that is a secret that we feel good in light conditions. But we feel confident about the conditions and we know whom we are facing. We are prepared for tomorrow and we have a great opportunity here. We have been lucky here. Statistically, we may not look as strong against Ian Williams but those are just statistics."
Taylor Canfield, 5th Gold Cup
"The Quarter Finals were tough and Staffan Lindberg sailed incredibly well. We decided just to minimize risk in the marginal conditions. We have been sailing well all week and feel comfortable with that. It was a great Quarter Final series against Staffan and his team. He had the best of us and hats off to him for sailing well."
Johnnie Berntsson, 8th Gold Cup
"The final race of the Quarter Finals could have gone either way against Bjorn Hansen today. It is the small details and we were happy about that. We tried to keep the race close and we tried to keep on the pressure on our opponent as much as possible. On the downwind, just behind him, we hoped to attack and my crew called a great tactic.
We are pleased that we are sailing Taylor. Although, it is going to be challenging to face Taylor but for us this is a comeback race because two years ago we lost in the finals to Taylor."
Sunday Forecast— Winds northerly 10 to 15 knots, soon backing northwesterly, increasing west-northwesterly 12 to 18 knots in the evening… Widespread rain and showers, mainly to the south through east, with a chance of thunder and fair to poor visibility, becoming isolated showers by the afternoon
Read More About