The Ministry of Finance today [Nov 17] reported on the 2014/15 First Half Fiscal Performance and provided an updated Economic Review for 2014, saying that gross debt stood at $2.185 billion at the end of September 2014.
2014/15 First Half Fiscal Performance:
A spokesperson said, "The headline numbers for the 2014/15 National Budget were: a revenue target of $902 million; current expenditure of $1.1 billion, including debt service; capital expenditure of $61.9 million; and a projected deficit of $267.3 million.
"Revenues for the six months ending September 2014 are $443.5 Million; this is $4.7 million [1.1%] higher than in September 2013. However it should be noted that Customs duty is tracking 7.8% below 2013 collections, and will be monitored closely. This $7.6 million reduction in Customs Duty is offset by increased collections in Payroll Tax of $3.1 million and Other Revenues totaling $2.8 million.
"In general total revenues are tracking in line with budget estimates; however the weakness in Customs Duty receipts poses a risk in meeting the total revenue target of $902 million for the current fiscal year.
"Current expenditures, excluding debt service, for the first six months ending September, 2014 are $459.4 million; this is $28.5 [5.8%] million lower than was spent during the same period last fiscal year. Government current account spending to date is lower during this fiscal year when compared to the same period last year due mainly to the furlough proposal and other budget reduction measures taken in the 2014/15 Budget.
"In general, current expenditures, excluding debt service, are presently tracking slightly below budget estimates. The $459.4 million spent in the first six months of 2014/15 represents approximately 48.6% of the total current account budget of $945.8 million.
"Capital expenditures for the period ending September 2014 are $14 million lower than in September 2013. This is primarily due to the reduction in major capital development projects for 2014/15.
"Total current and capital spending to date, excluding debt service, is $42.5 [8.1%] million lower than last year's spending.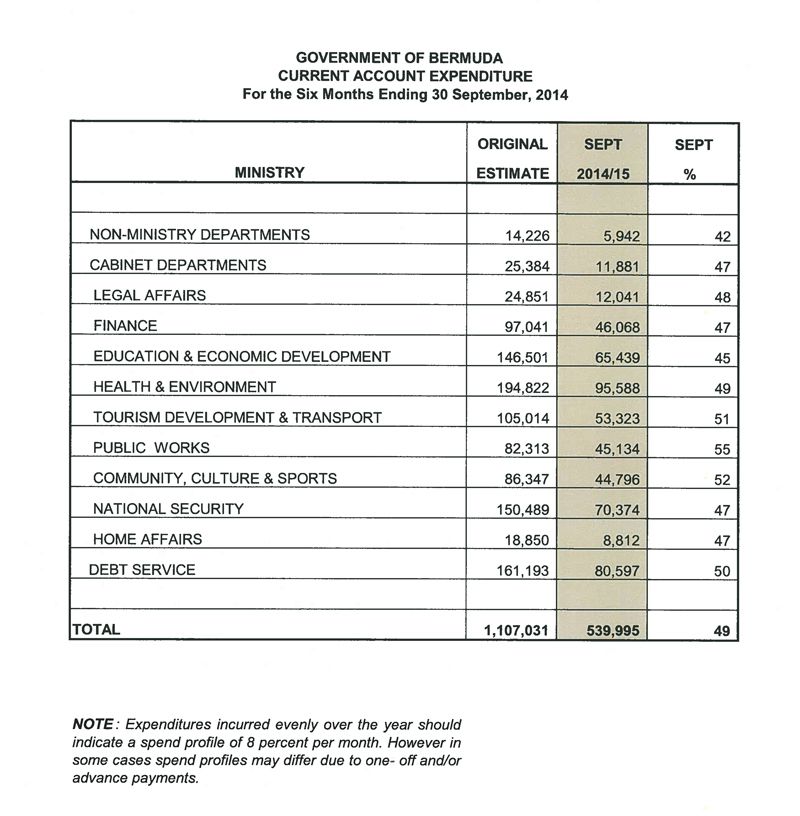 "Due to the ongoing difficult economic conditions, spending pressures have continued in the social areas with increased demand for financial assistance with expenditures in this area being above budget in the first six months of 2014/15. Other potential unexpected unavoidable expenditures in current account expenditures in 2014/15 are being closely monitored.
"To the maximum extent possible, these items will be covered with current budget allocations.
"Although the majority of large claims will be covered by insurance, additional unbudgeted cost will accrue from Tropical Storm Fay and Hurricane Gonzalo. A full accounting of the total losses incurred by these events will be provided in due course.
"Debt service costs for the first six months ending September 2014 are $80.5 million. This represents $56.7 million in interest payments and a $23.8 million contribution to the Government Borrowing Sinking Fund, representing one half of the $47.7 million annual contribution. Debt service to date is $19.1 million more than last year's period. This is due to higher debt levels.
"The $56.7 million paid in interest expense represents 12.8% of the revenue collected for the period. For comparative purposes, it should be noted that the average for countries rated similar to Bermuda is 4.1% of revenue collections.
"For the first six months of 2014/15 Government incurred a deficit of $116.7 million. This deficit was financed by drawing funds from the Sinking Fund. In 2013, Government borrowed $800 million and the net proceeds of these funds were used to repay all of Government's outstanding short-term indebtedness with local banks and fund the 2013/14 year's budget deficit.
"The balance of these funds was deposited into the Sinking Fund to cover the 2014/15 budget deficit and part of the projected 2015/16 budget deficit.
"Gross debt at the end of September 2014 stood at $2.185 billion, the Government paid off $120 million in Private Placement Notes in the first quarter of fiscal 2014/15.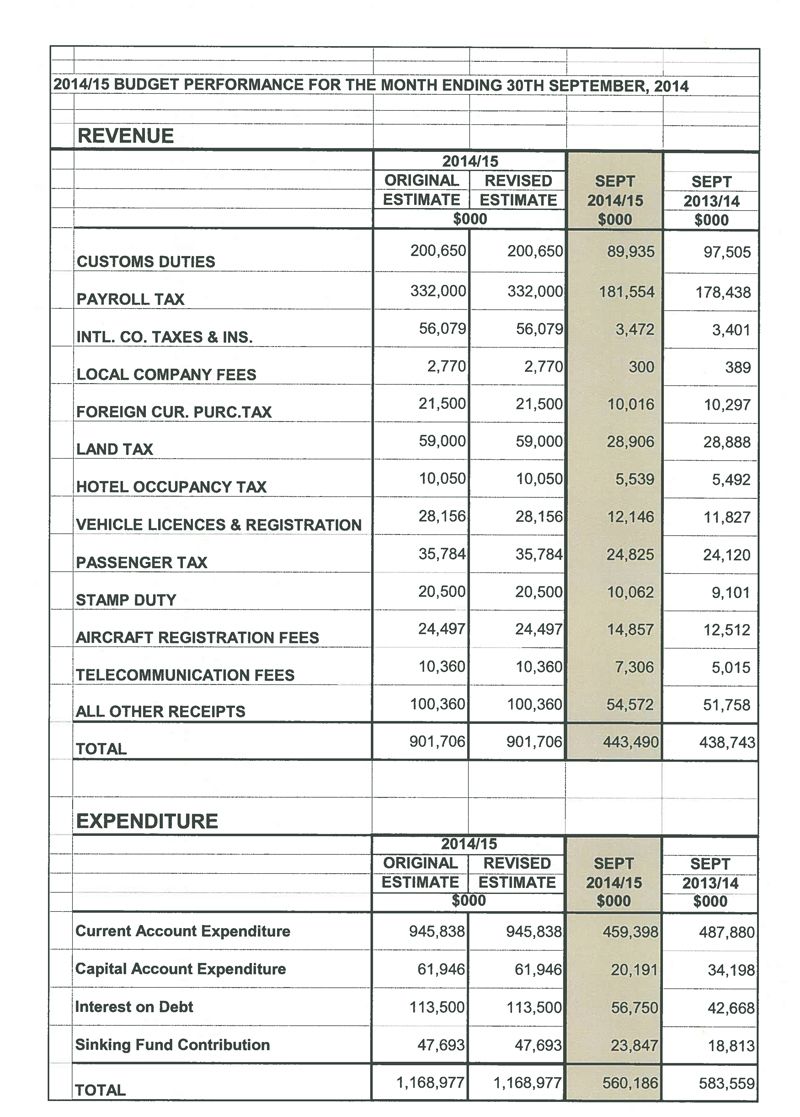 Summary Economic Indicators: Updated Economic Review 2014
*Comparative data over the first half of 2014, except when otherwise indicated.
The year to date [September] average Consumer Price Index was 2.4% and the 12 month average rate was 1.9%. The primarily causes of inflation during the last twelve months were increased costs of medical supplies, prescription drugs and health insurance premiums in the Health & Personal Care sector, rising food costs and the higher costs of electricity and premium fuel.
Imports decreased by 2.3% in the first two quarters to register at $476 million. The decline was primarily attributed to the imports of fuel which fell $19.7 million or 26% below the corresponding period of 2013, as well as declines in the imports of food, chemicals and machinery.
Air arrivals to September 2014 decreased by 3.6% while the number of cruise passengers increased by 8.3% over the same time period. Total visitor arrivals were up 3.9% versus a year ago.
Total visitor spending, in the first quarter was in line with 2013 settling at $34 million.
Some 535 new international companies and partnerships were registered in Bermuda during the first six months of 2014 representing a 13.4% increase over 2013 registrations of 472.
Total value of new construction projects started, for the first six months of this year, rose 49% to $26.1 million this year.
The estimated value of construction work put in place was $103.7 million, an increase of 27.7%. This increase is not only attributed to the ongoing hotel redevelopments of the Fairmont Hamilton Princess and Pink Beach Hotel, but there has also been construction work put in place on a couple of smaller hotel properties, as well as a pickup in the residential and office, shops & warehouses sectors.
Employment income contracted slightly to $1.67 billion, a decrease of 1.5%.
Total retail sales for the first nine months of 2014 increased by 0.24% or $5.7 million to register at $752.7 million.
Bermuda's Balance of Payments in the second quarter of 2014 recorded a surplus on the current account of $215 million, which was $108 million less than the surplus in the second quarter of 2013. The contraction in the current account surplus was mostly due to changes in the primary income account, where there was a decrease in net investment income received from non-residents in the amount of $74 million.
Based on figures released by the Bermuda Monetary Authority, Bermuda's money supply contracted by 5.1% year over year at the end of the first quarter 2014. The money supply declined mainly due to a 5.1% reduction in deposit liabilities. The majority of the decline in deposits was the result of lower time deposit balances which fell by 9.05% during the quarter versus the same quarter in the previous year.
The Banking sector's total assets increased by 4.6% at the end of June 2014. The increase was driven mainly by a year over year increases in Investments and Other assets by 17.2% and 12.7%, respectively. Loans fell by 7.0% at the end of the second quarter while customer deposits grew by 6.1% for the same time period.
The spokesperson added, "This year's economic data, thus far, are consistent with the expectation in the 2014 National Economic Report of Bermuda and the Ministry of Finance's own macroeconomic forecasts. The main theme to note is that the current difficult economic conditions will continue through 2014. However, there are some positive indicators that show certain sectors of the economy are improving as we move towards the end of the year.
"The Ministry continues to believe that the corrective measures outlined in the 2014 Throne Speech, a modest pick-up in the global economy, as well as other future initiatives, will result in improved economic conditions in the medium-term."
Read More About