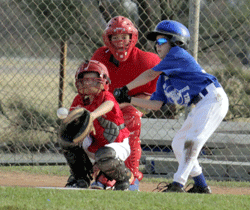 Despite hit advantage, Big Red fell 2 – 1 to the Blue Jays as the YAO Fall Ball League resumed at the YAO Ball Park in the East End.
Early on the Blue Jays' lineup had no answer for Jannis Roberts. Roberts held the Blue Jays hit-less over two innings, allowed no earned runs, walked five and struck out six.
Four relief pitchers didn't loosen their grasp on the win as they finished off the game for the Blue Jays. Nicholas Bonano faced four batters in relief, while Noah Simons managed to record one out to aid the victory.
BIG RED managed to score one run in the fourth inning on an RBI single by Caroline Driscoll.The game's last lead went to the Blue Jays thanks to a fifth inning rally that saw two runs cross the plate on a Triple by Cameron Morris.
Read More About