The Progressive Labour Party held a Town Hall meeting last night [Dec 2] to discuss the circumstances surrounding the airport redevelopment.
Earlier this month, the Government announced they had reached an agreement with the Canadian Commercial Corporation [CCC] to build a new airport terminal building, with Finance Minister Bob Richards saying it is expected to cost in the "range of $200 million", and the "financing will rely entirely on the future revenue streams from the new airport itself."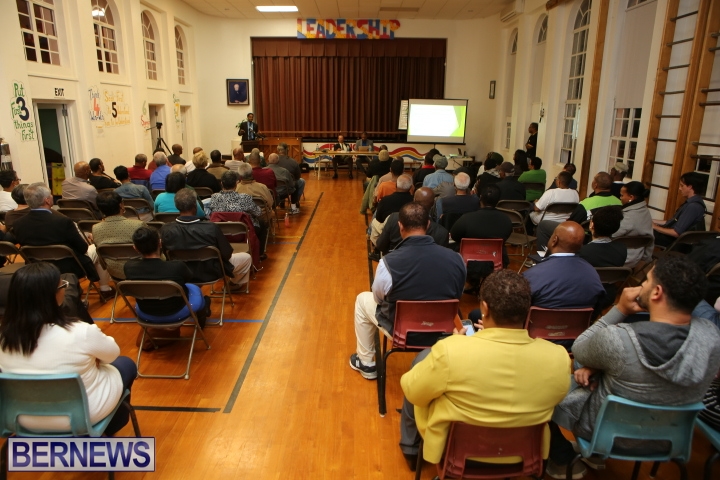 In a statement announcing the Town Hall, Shadow Finance Minister David Burt said, "With $1 billion dollars of future Bermuda revenue at stake, a no-bid contract to a Canadian Company, and the loss of control of our airport for 30 years through privatisation, this is an issue of national importance.
Shadow Transport Minister Lawrence Scott said, "L.F. Wade International is employed nearly 100% by Bermudians, provides a major source of revenue to the government and is our primary access point to Bermuda.
Slides shown at the meeting, click arrow to move to next slide [PDF here]:
"We simply cannot permit it to be privatised for 30 years in what appears to be a backroom deal that could jeopardize Bermudian jobs," added Mr. Scott.
Jost over 100 were present last night, and those in attendance included Opposition Leader Marc Bean, MP Derrick Burgess, MP Lovitta Foggo, MP Wayne Furbert, Senator Diallo Rabain, Senator Marc Daniels, Senator Renee Ming and former Premier Paula Cox.
90 minute video of the Town Hall*
*As readers are aware we normally post full videos of events, however due to legal reasons we have edited out approximately 90 seconds [at the 40 min mark of the video] which contains remarks from an audience member. The full remarks from all the PLP MPs are included in the video.

Read More About