In celebration of Bermuda's 2014 Volunteer Day celebrations, The Centre on Philanthropy held theit 9th Annual Volunteer Recognition Reception on December 9th, 2014, generously sponsored by the ACE Group.
International Volunteer Day was established by the United Nations General Assembly on December 17th, 1985 to show volunteers worldwide respect and recognition and shine a light on the impact of volunteers everywhere.
A spokesperson said, "The Centre on Philanthropy celebrates and promotes the spirit of volunteerism throughout our Island by providing our non-profit members the opportunity to honour and recognise their star volunteers for their dedication. Over 200 guests attended this year's event including His Excellency, The Governor Mr. George Fergusson and The Hon. Wayne R. Scott, JP, MP, Minister of Community, Culture & Sports.
"Nominations from 68 non-profit organisations in honour of 103 volunteers, including 36 youth volunteers, were recognised at this year's Volunteer Recognition Reception. What an inspiration to see so many young people involved in our community and recognised for their volunteer contributions.
"These volunteers share their knowledge and skills to help our non-profits deliver critical services and support sustainable economic and community development. Many are also taking part in new initiatives such as skills-based volunteering and e-volunteering.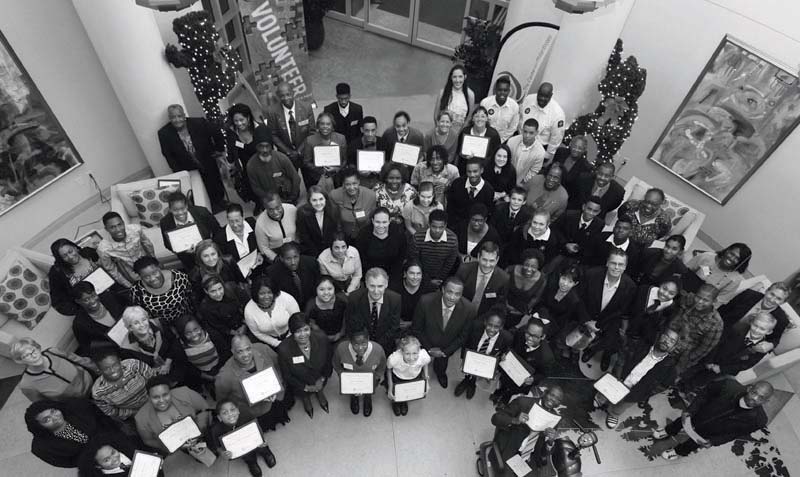 "They bring with them tremendous experiences, new contacts and fresh perspectives from their social and professional lives that, in turn, have a positive and lasting impact on our community. They support a range of causes including health and human services, youth and education, arts and culture, sports and recreation, animals and the environment. We are grateful for their commitment and we celebrate them!
"A big part of The Centre on Philanthropy's mission is to promote and support volunteerism in Bermuda. We accomplish this by inspiring and mobilizing individuals to seek active citizenship through engagement in meaningful service projects and facilitating volunteer projects in partnership with individuals, non-profits and companies.
"Through volunteerism, we wish to foster understanding and facilitate purposeful exchanges between citizens from all walks of life, in order to cultivate a stronger community composed of caring and committed citizens.
"To find and connect with opportunities in Bermuda we encourage you to visit www.volunteer.bm, The Centre on Philanthropy's online matching system that connects you with meaningful volunteer activities. There are short-term volunteer opportunities that are sure to get you in the festive spirit, but more importantly, will make a real difference to organisations and people across our Island this December.
"Please be sure to check out what activities are currently available, and check back often as we continue to partner with our non-profits to promote volunteer opportunities in Bermuda."
Read More About
Category: All