[Updated with video] According to the 2014 Labour Force Survey released today [Jan 9], the unemployment rate was measured at 9% and the workforce shrunk by 511 workers in 2014.
The 9% unemployment rate in 2014 compares to a 7% unemployment rate in 2013, an 8% unemployment rate in 2012, and a 6% unemployment rate in 2010.
Chart #1 extracted from the report: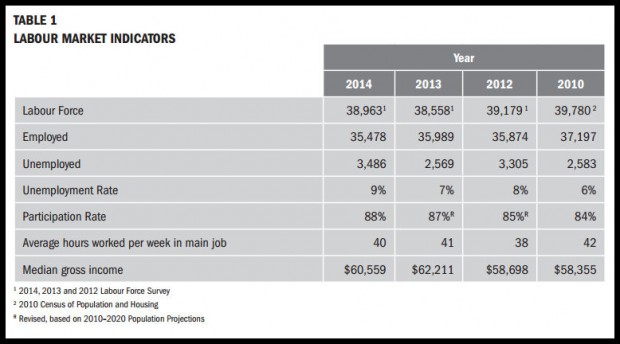 The report said, "The workforce shrunk by 511 workers in 2014, from the 35,989 reported in 2013 to 35,478 in 2014. The overall decline in jobs was nearly split between males and females. Female workers recorded a decline of 257 jobs, while male workers accounted for 254 lost positions from the previous year."
"Job gains were reported among Bermudians, spouses of Bermudians and permanent resident certificate holders. Spouses of Bermudians posted an increase of 13% or 216 positions in 2014. Compared to the 1,668 positions reported in the previous year, non-Bermudian spouses reported 1,884 in 2014.
Chart #2 extracted from the report: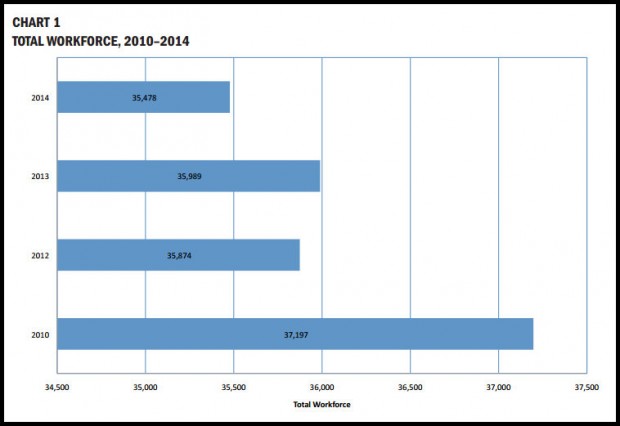 "Bermudian workers tallied 157 additional jobs from the 27,309 positions reported in 2013. Jobs held by permanent resident certificate holders increased by 143 jobs in 2014.
"In contrast, there was a 19% decline in the number of other nonBermudian workers with 1,027 jobs lost in 2014. Contract workers reported 4,416 jobs in 2014 compared to the 5,443 jobs that were reported in 2013.
"Fifty-six per cent of the unemployed were males. The unemployment rate for males was 10%, as 1,949 men were looking for work. The jobless rate among women was 8% with 1,537 females looking for work.
"Some 3,214 Bermudians were without employment in 2014, a 92% share of the total while persons of black racial heritage represented 2,547 job seekers or 12% compared to 468 whites with 4% unemployment.
Minister Bob Richards's full statement follows below:
1. It is clear from media reports that certain parts of the results of this survey have already been leaked to the press and an implication has been made that these results have been deliberately suppressed because the employment numbers are not good.

2. This is absolutely false. And you will see why as I proceed through this presentation.

3. The report that I heard on TV claimed that the methodology used for 2014 and 2013 were the same. That also is false. The sample sizes for the two surveys were different and that difference caused the Ministry of Finance to conduct a further validation exercise using data from the Tax Commissioner's Office.

4. Let me first emphasize what this report is not, and what it in fact is.

a. What this report is not – It is not the result of counting every employed or unemployed person in Bermuda.
b. What it is – It is a STATISTICAL SURVEY, meaning that it is an ESTIMATE by way of sampling. This means that it is subject to a sampling error. That error is disclosed at the bottom of page 9, and it is +/- 2.5%. That means that the actual number being estimated could be bigger by 2.5% or smaller by 2.5% than the number reported. With this methodology we can't be any more accurate than that.

5. With this knowledge and perspective let us look at some of the numbers summarized on the sheet I have passed out. These numbers are taken straight from the report. The changes (deltas) in the two headline numbers, Labour Force and the Number of People Employed from 2013 to 2014 are well within the sampling error of +/- 2.5%. That means there has been no statistically significant change in the labour force of the number of people employed year over year. So you cannot and should not conclude from these numbers that there has been a big drop in employment.

6. For the sake of clarity, let me emphasize that I am not saying that the loss of 511 jobs is not significant to this government. What I'm saying is that we cannot hang our hats on the accuracy of that number because of inherent sampling error.

7. The Unemployment number here has gone up by 35% but this is based on the math of small numbers.

8. Median income declining by 2.66% is statistically significant, only just. Payroll tax figures do not corroborate an income decline.

9. The other changes to Working Population, Males working, Females working and Bermudians working are all statistically insignificant. You cannot and should not draw conclusions from them.

10. Changes in the black working population and white population are indeed significant and are something of note.

11. Let me be clear, I am not criticizing the Statistics Department or their work. They know about sampling errors and have professionally stated what they are in their report. People often don't pay attention to that. They think its fine print, but you have to pay attention to fine print. So readers of their survey reports should be clear about how to interpret their results and be careful not to draw conclusions that are invalid.

12. As I mentioned, one of the reasons for the delay was that we cross checked this report with data from the Tax Commissioner.

a. This data as at 9/30/14, indicates there has indeed been some weakness in job markets.
b. The weakest sectors being construction, hotels/restaurants/bars/ nightclubs and banks.
c. The weakness in construction is a reflection of the completion of the Acute Care Wing of KEMH.
d. The weakness in the other two sectors is also well known and is being addressed by the government.

13. Another source of data is the Department of Workforce Development (DWD). Clients of Financial Assistance are obliged to register with the DWD. There are 540 of these individuals. DWD has 2,178 people registered as unemployed/underemployed. This amounts to 6.1% of the workforce. Of course this omits folk who are unemployed but do not register with DWD. Unemployment measures those who are out of work and are seeking work. Why a person who is seeking work would not register with DWD is an open question, but according to these figures, there are 1,308 such people.

14. One more thing, and that is this survey was conducted 8 months ago and even if the year over year changes in the numbers were statistically significant one has to take into account the passage of time.

15. The last point I would like to make on employment statistics is that it is well known that jobs are, what economists call, a lagging indicator. This means that the positive movement in job numbers usually comes well after the other key economic indicators have already shown that the recovery is well under way. There are good business reasons for this. It happens in economies around the world and I would expect it applies to Bermuda as well.

16. However, since May/June 2014 or even 9/2014 a number of important positive developments have taken place.

17. The latest data from the Tax Commissioner's office show that 400 jobs have been created since the inception of our tax holiday for New Bermudian Hires. So this tax initiative has had a positive effect on the job market during a critical period of weakness. Of course, this was its objective.

18. Our other initiative that targeted the real estate market has also yielded positive results with the recent report from Coldwell Banker that the property market has stabilized after having been in free fall when OBA became the government in 12/2012.

19. Weakness in the job market has already been well documented and was fully established before the OBA was elected to government. However, a number of other initiatives by this government, or those encouraged by us, have been brought to bear to improve the situation, many of them since May/June 2014 – the date of this survey, for example:

a. New Pink Beach
b. The next phase of Hamilton Princess refurbishment
c. New St. Regis in St. George's
d. South Beach (Sinky Bay) project
e. Ariel Sands redevelopment
f. New Ritz Reserve at Morgan's Point
g. New airport terminal
h. Last, but not least, America's Cup and the preparations for it.

20. We have already seen evidence of the impending upswing with building permits for 2014 totaling 877 versus 701 for 2013.

21. So, to conclude, the evidence of the survey showed no statistically significant erosion in job markets, although other data shows employment remained weak for the first part of the year 2014. This government places very high value on the dignity of honest work and deep concern for those unsuccessfully seeking a job is driving us to continue to work tirelessly to improve the situation. I am encouraged that evidence shows that the government's efforts to turn things around are working even though many of the major projects have not yet kicked in, but when they do there will be a major surge in job opportunities for Bermudians.
-
The full 2014 Labour Force Survey follows below [PDF here]:
Update 5.10pm: Shadow Finance Minister David Burt said, "The figures released today crystallize the fact that the Bermudian job crisis is getting worse under the OBA. I will comment more next week when I have a chance to fully digest the numbers which were just released, however the headline figures are truly sobering.
"There were 511 less people working in 2014 than in 2013 a figure that pours cold water on the OBA's continued talk of recovery.
"The figures show that there were 3,486 people recorded as unemployed, the highest number of people unemployed ever recorded!
"Finally, the figures show that under the OBA, Bermuda is experiencing record unemployment as the unemployment rate of 9% is higher than the 8% recorded in 2012.
"The headline numbers speak for themselves; falling jobs, record numbers of unemployed and the highest unemployment rate ever recorded. This report makes it clear that the trickle down policies of the OBA are not working; they have caused further job losses and record unemployment.
What Bermuda needs is a more diversified economy and a government who is looking to build an economy with ideas for the future, not a government focused on ideas from the past."
Update 10.19pm: Video of Minister Richards added below.
Read More About