Bryan Huberty and Rose-Anna Hoey are the 2015 Fairmont to Fairmont Road Race champions following racing on Sunday morning [Jan 11].
The race takes runners on a 7.2 mile course between the Fairmont Southampton and Fairmont Hamilton Princess, with runners traveling from the Fairmont Hamilton Princess Hotel, along Front Street, East Broadway, The Lane, Harbour Road, Burnt House Hill, Middle Road and up The Fairmont Southampton Driveway.
Race winners Bryan Huberty and Rose-Anna Hoey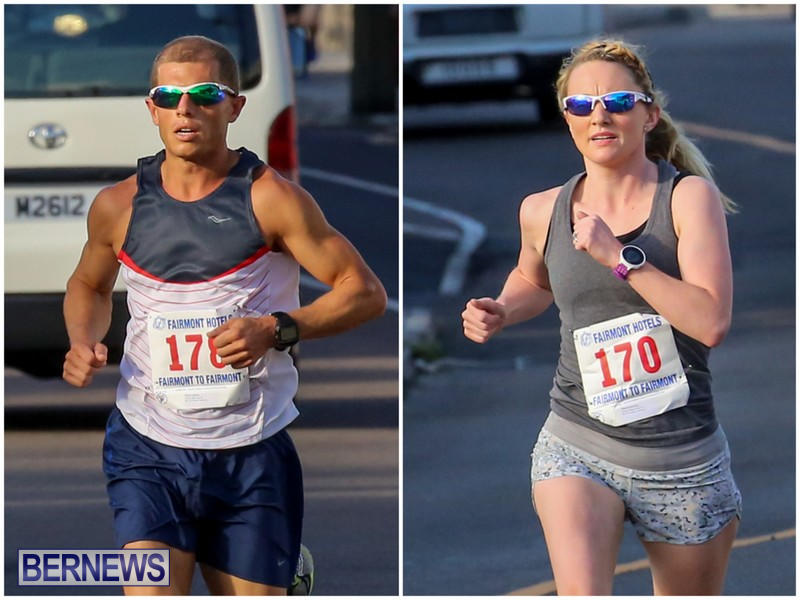 Huberty crossed the line in a time of 39:58, with Jay Donawa finishing second in 40:21 and Evan Naude finished third in a time of 42:41. Hoey was the first female finisher and 6th across the line in a time of 45:31, Deon Breary was the second female and 13th overall recording a time of 47:47 and Krista Dyer finished 15th overall and as the third female with a time of 48:10.
Jayden Ming won the junior race crossing the line in a time of 8:51, Ryan Outerbridge finished second with a time of 9:03 and Sajan Harvey finished third clocking 9:07. Lynsey Palmer was the first Junior female finisher clocking a time of 9:42, Jessie Marshall was the second junior female and 16th overall with a time of 10:14 and Jade Johnston finished as the third junior female and 20th overall with a time of 10:32.
Runners
| | | | |
| --- | --- | --- | --- |
| 1 | Bryan Huberty | M | 39:58:00 |
| 2 | Jay Donawa | M | 40:21:00 |
| 3 | Evan Naude | M | 42:41:00 |
| 4 | Chris Allington | M | 45:20:00 |
| 5 | Mark Morrison | M | 45:30:00 |
| 6 | Rose-Anna Hoey | F | 45:31:00 |
| 7 | Craig Rothwell | M | 46:42:00 |
| 8 | Chefton Hall | M | 46:47:00 |
| 9 | Peter Gracey | M | 46:47:00 |
| 10 | Trevor Lindsay | M | 46:56:00 |
| 11 | Anonymous Participant | M | 47:02:00 |
| 12 | Ronae Burgess | M | 47:28:00 |
| 13 | Deon Breary | F | 47:47:00 |
| 14 | Jason Correia | M | 48:09:00 |
| 15 | Krista Dyer | F | 48:10:00 |
| 16 | Charlie Withers-Clarke | M | 49:34:00 |
| 17 | Ada M Rossides | M | 50:07:00 |
| 18 | Dean Smith | M | 50:25:00 |
| 19 | Chloe Kempe | F | 50:54:00 |
| 20 | David Packer | M | 51:10:00 |
| 21 | Kelly Larrett | F | 51:28:00 |
| 22 | Larry Hodge | M | 51:35:00 |
| 23 | Dominique Nanette | M | 51:57:00 |
| 24 | Paul Dobinson | M | 52:06:00 |
| 25 | Julia Hawley | F | 52:10:00 |
| 26 | Andrew Bray | M | 52:37:00 |
| 27 | Edward Fisher | M | 52:38:00 |
| 28 | Luis Muso | M | 52:46:00 |
| 29 | Otis Ingham | M | 52:52:00 |
| 30 | Michael Palmer | M | 52:59:00 |
| 31 | Scott Neil | M | 53:00:00 |
| 32 | Phillip Wells | M | 53:05:00 |
| 33 | Martina Olcheski-Bell | F | 53:08:00 |
| 34 | John Saur | M | 53:18:00 |
| 35 | Ada M Hopkin | M | 53:23:00 |
| 36 | Christopher Jones | M | 53:29:00 |
| 37 | Mike Gutteridge | M | 53:36:00 |
| 38 | Melissa Logie | F | 53:36:00 |
| 39 | Laura Knox-Clingerman | F | 53:44:00 |
| 40 | Michael Halbert | M | 53:48:00 |
| 41 | Sharlene Sousa | F | 54:09:00 |
| 42 | Laura Dusek | F | 54:12:00 |
| 43 | Col M Homan | M | 54:14:00 |
| 44 | Jonathan Betts | M | 54:24:00 |
| 45 | Mike Schindel | M | 54:28:00 |
| 46 | Kristen Palmer | F | 54:28:00 |
| 47 | James Keyes | M | 54:37:00 |
| 48 | Ryan Gibbons | M | 54:37:00 |
| 49 | Antun Duzevic | M | 54:46:00 |
| 50 | Allison Schindel | F | 54:46:00 |
| 51 | Rebecca Cooper | F | 54:52:00 |
| 52 | David Oliveira | M | 54:54:00 |
| 53 | Willia M Porteous | M | 55:00:00 |
| 54 | Jonathan Reiss | M | 55:07:00 |
| 55 | Charles Leonard | M | 55:23:00 |
| 56 | Travis Stringer | M | 55:25:00 |
| 57 | Sean Kelly | M | 55:37:00 |
| 58 | Ian Davies | M | 55:38:00 |
| 59 | Johann Hunter | M | 55:59:00 |
| 60 | Stephen Castree | M | 56:00:00 |
| 61 | Jerome Wellman | M | 56:00:00 |
| 62 | Alan Tiernan | M | 56:05:00 |
| 63 | Chris Jansma | M | 56:08:00 |
| 64 | To M Meyer | M | 56:08:00 |
| 65 | Kimberley Terceira | F | 56:09:00 |
| 66 | Gayle Lindsay | F | 56:09:00 |
| 67 | David Woodcock | M | 56:20:00 |
| 68 | Anna Laura Hocking | F | 56:24:00 |
| 69 | Anne Kermode | F | 56:31:00 |
| 70 | Yuko Ebata | F | 56:43:00 |
| 71 | Stan Murphy | M | 56:47:00 |
| 72 | Stepanka Sprincova | F | 56:56:00 |
| 73 | Jonathan Walters | M | 56:58:00 |
| 74 | Andrea Luber | F | 57:12:00 |
| 75 | Joshua London | M | 57:15:00 |
| 76 | Laura Norman | F | 57:17:00 |
| 77 | Nick Williamson | M | 57:19:00 |
| 78 | Christina WEstholm-Schroder | F | 57:21:00 |
| 79 | Mark Outerbridge | M | 57:24:00 |
| 80 | Seamus Durkin | M | 57:33:00 |
| 81 | Jonathan Lee | M | 57:35:00 |
| 82 | Zina Jones | F | 57:36:00 |
| 83 | Simona Terceira | F | 57:39:00 |
| 84 | John Richmond | M | 57:47:00 |
| 85 | Jesse DeCouto | M | 57:54:00 |
| 86 | Kimberly McIvor | F | 57:55:00 |
| 87 | Sarah Thompson | F | 57:55:00 |
| 88 | Joanne Tucker | F | 58:31:00 |
| 89 | Ki M Willey | F | 58:33:00 |
| 90 | David Soutter | M | 58:33:00 |
| 91 | Richard Hammond | M | 58:42:00 |
| 92 | Emma Norman | F | 59:01:00 |
| 93 | Rebecca Kuruvilla | F | 59:07:00 |
| 94 | John Rolph | M | 59:16:00 |
| 95 | Kevin McGeever | M | 59:22:00 |
| 96 | Katie DeCouto | F | 59:29:00 |
| 97 | Peter Havlicek | M | 59:31:00 |
| 98 | Anonymous Participant | F | 59:37:00 |
| 99 | Milan Oleksak | M | 59:38:00 |
| 100 | Grensy Quintero | F | 59:38:00 |
| 101 | Marcello Ausenda | M | 59:44:00 |
| 102 | Richard Hazel | M | 59:46:00 |
| 103 | Chris Harkness | M | 59:49:00 |
| 104 | Gemma Gowrie | F | 59:49:00 |
| 105 | Claire McDevitt | F | 59:58:00 |
| 106 | Darren White | M | 1:00:01 |
| 107 | Christopher Myles | M | 1:00:17 |
| 108 | Mitchell Trott | M | 1:00:22 |
| 109 | Jan Spindler | M | 1:00:23 |
| 110 | Rosie Finnigan | F | 1:00:25 |
| 111 | Anonymous Participant | F | 1:00:29 |
| 112 | Patrick Furlong | M | 1:00:34 |
| 113 | Matthew Godfrey | M | 1:01:04 |
| 114 | Claire De Ste Croix | F | 1:01:07 |
| 115 | Wanda Dubois | F | 1:01:12 |
| 116 | Maria Duffy | F | 1:01:28 |
| 117 | Michael Viotti | M | 1:01:28 |
| 118 | Anonymous Participant | F | 1:01:29 |
| 119 | Jeane Hofmeyr | F | 1:01:31 |
| 120 | Glenn Simons | M | 1:01:34 |
| 121 | Jack Finlay | M | 1:01:45 |
| 122 | Christopher Dill | M | 1:01:51 |
| 123 | Sean Billington | M | 1:01:55 |
| 124 | Rebecca Shepherd | F | 1:02:05 |
| 125 | Claire Frith | F | 1:02:06 |
| 126 | Steven Ortiz | M | 1:02:09 |
| 127 | Nadia Dattilo | F | 1:02:13 |
| 128 | Leonard Davis | M | 1:02:14 |
| 129 | Robin Holder | M | 1:02:23 |
| 130 | Louise Wells | F | 1:02:25 |
| 131 | Sheikia Ming | F | 1:02:37 |
| 132 | Kate Tomkins | F | 1:02:40 |
| 133 | Vanessa Scott | F | 1:02:40 |
| 134 | Kevin Davies | M | 1:02:41 |
| 135 | Sioned Evabs | F | 1:02:41 |
| 136 | Alexandra McInnes | F | 1:02:41 |
| 137 | Jeffrey Tyrrell | M | 1:03:06 |
| 138 | Rene Notter | M | 1:03:17 |
| 139 | Zola French | F | 1:03:28 |
| 140 | Larissa French | F | 1:03:28 |
| 141 | Suzanne Allis | F | 1:03:41 |
| 142 | Raymond Raynor | M | 1:03:45 |
| 143 | Nils Harms | M | 1:03:48 |
| 144 | Hersey Caco | F | 1:03:56 |
| 145 | Gemma Holden | F | 1:04:04 |
| 146 | Nicole Rozon | F | 1:04:07 |
| 147 | James Gitu | M | 1:04:11 |
| 148 | Danie De Lange | M | 1:04:21 |
| 149 | Edwin Smith | M | 1:04:27 |
| 150 | Elizabeth Deacon | M | 1:04:45 |
| 151 | Matthew Clarke | M | 1:04:51 |
| 152 | Abi Sanche | F | 1:05:04 |
| 153 | Charl Hofmeyr | M | 1:05:08 |
| 154 | Jennifer Lightbourne | F | 1:05:11 |
| 155 | Pierre Jean | M | 1:05:16 |
| 156 | Madison Brewer | F | 1:05:16 |
| 157 | Ceri Riihiluoma | F | 1:05:16 |
| 158 | Melina Tyers | F | 1:05:19 |
| 159 | Anonymous Participant | F | 1:05:27 |
| 160 | Mark Eldridge | M | 1:05:28 |
| 161 | Rachael Rothwell | F | 1:05:40 |
| 162 | Michael Morris | M | 1:05:42 |
| 163 | Christina Jones | F | 1:05:43 |
| 164 | Chris Morley | M | 1:05:51 |
| 165 | Taylor Carrick | M | 1:05:52 |
| 166 | Peggy Couper | F | 1:06:00 |
| 167 | Alan Murray | M | 1:06:01 |
| 168 | Lynn Norman | F | 1:06:06 |
| 169 | Nedia Williams | F | 1:06:08 |
| 170 | Jennie Kelly | F | 1:06:11 |
| 171 | Brian McNamara | M | 1:06:11 |
| 172 | Ben Wright | M | 1:06:14 |
| 173 | Yannis Williams | M | 1:06:24 |
| 174 | Terri Durrant | F | 1:06:25 |
| 175 | Deborah Pharoah-Williams | F | 1:06:31 |
| 176 | Liz Craig | F | 1:06:37 |
| 177 | Stuart Roberts | M | 1:07:01 |
| 178 | Ian Gilbertson | M | 1:07:02 |
| 179 | David Green | M | 1:07:08 |
| 180 | Gary Young | M | 1:07:21 |
| 181 | Gillian McCann | F | 1:07:26 |
| 182 | Allen Brown | M | 1:07:39 |
| 183 | Samantha Saunders | F | 1:08:18 |
| 184 | Grainne Richmond | F | 1:08:24 |
| 185 | Gretchen Goodbody-Gringley | F | 1:08:35 |
| 186 | Betty Doyling | F | 1:08:39 |
| 187 | Ali Hochberg | F | 1:08:40 |
| 188 | Anonymous Participant | F | 1:08:46 |
| 189 | Elizabeth Stewart | F | 1:08:47 |
| 190 | Emma Davison | F | 1:08:55 |
| 191 | Darnell Wynn | F | 1:08:57 |
| 192 | Christian Dolan | M | 1:09:00 |
| 193 | Emily Hopkin | F | 1:09:01 |
| 194 | Myrian Balitian-Dill | F | 1:09:04 |
| 195 | Nicole Arorash | F | 1:09:06 |
| 196 | Malcol M Clarke | M | 1:09:39 |
| 197 | Robyn Skinner | F | 1:09:46 |
| 198 | Gerald Erasmus | M | 1:09:48 |
| 199 | Laura Keyes | F | 1:09:52 |
| 200 | Tina Adderley | F | 1:09:57 |
| 201 | Frances Betts | F | 1:10:29 |
| 202 | Paul Gilmour | M | 1:10:35 |
| 203 | Sarah DeSilva | F | 1:10:36 |
| 204 | Harjeet Singh | M | 1:10:37 |
| 205 | Mayberline Black | F | 1:10:40 |
| 206 | Kirsty Willemse | F | 1:10:49 |
| 207 | Sarah Strass | F | 1:10:52 |
| 208 | Simon Chew | M | 1:11:01 |
| 209 | Thomas Hands | M | 1:11:10 |
| 210 | Daniel Tafur | M | 1:11:15 |
| 211 | Midge Oliver | F | 1:11:37 |
| 212 | Claire Hawley | F | 1:12:01 |
| 213 | Giorgio Zanol | M | 1:12:05 |
| 214 | Daniele Pucci | M | 1:12:06 |
| 215 | Dawna Ferguson | F | 1:12:33 |
| 216 | Peter Richold | M | 1:12:36 |
| 217 | Joanna Jackson-Smith | F | 1:13:07 |
| 218 | Russell Griffith | M | 1:13:12 |
| 219 | Tina Caesar Robinson | F | 1:13:13 |
| 220 | Pamela Williams | F | 1:13:18 |
| 221 | Lucinda Murray | F | 1:13:28 |
| 222 | Anonymous Participant | F | 1:13:33 |
| 223 | Lesley-Jane Smith | F | 1:13:35 |
| 224 | Anonymous Participant | F | 1:13:37 |
| 225 | Suzana Ming | F | 1:13:48 |
| 226 | Ti M Shelley | M | 1:13:51 |
| 227 | Ki M Burgess | F | 1:13:57 |
| 228 | Michelle Berkeley | F | 1:14:20 |
| 229 | Steven Barber | M | 1:14:45 |
| 230 | Marissa Forbes | F | 1:15:04 |
| 231 | David Forbes | M | 1:15:05 |
| 232 | Marilyn Mallari | F | 1:15:10 |
| 233 | Tara Davidson | F | 1:15:26 |
| 234 | Edwina Arorash | F | 1:15:43 |
| 235 | Sheryl Richardson | F | 1:16:00 |
| 236 | Carol Dixon | F | 1:16:00 |
| 237 | Dawayne Smith | M | 1:16:18 |
| 238 | Famella Haryanto | F | 1:16:55 |
| 239 | Danilee Trott | F | 1:17:02 |
| 240 | Liana Carrick | F | 1:17:03 |
| 241 | Natalie Dyrli | F | 1:17:17 |
| 242 | Melissa Flood | F | 1:17:23 |
| 243 | Nashon Burrows | M | 1:17:39 |
| 244 | Elvin Thomas | M | 1:17:59 |
| 245 | Amin Smith | M | 1:18:17 |
| 246 | Annette Fitzmaurice | F | 1:18:36 |
| 247 | Kristina Wright | F | 1:18:44 |
| 248 | Melanie Fullerton | F | 1:18:44 |
| 249 | Ada M De La Cruz | M | 1:19:15 |
| 250 | Florence Sharpe-Trott | F | 1:19:25 |
| 251 | Tamara Bradshaw | F | 1:20:00 |
| 252 | Ailynn Sargent | F | 1:20:27 |
| 253 | Joanna Heaney | F | 1:20:58 |
| 254 | Keith Griffin | M | 1:21:02 |
| 255 | Heather Brain | F | 1:21:50 |
| 256 | Thipwanna Sauter | F | 1:23:30 |
| 257 | Randell Woolridge | F | 1:23:32 |
| 258 | Cheryl White | F | 1:24:14 |
| 259 | Justine Foster | F | 1:24:35 |
| 260 | Clinton Curtis | M | 1:24:38 |
| 261 | Jennifer Williams | F | 1:25:36 |
| 262 | Jo Stanton | F | 1:26:33 |
| 263 | Donna Mae Arorash | F | 1:29:36 |
| 264 | Ruby Dill | F | 1:32:29 |
| 265 | Charlie Oleksak | F | 1:33:36 |
| 266 | Sophie Adams | F | 1:35:41 |
| 267 | Milan Snr Oleksak | M | 1:40:38 |
| 268 | Vanessa Taylor | F | 1:41:00 |
| 269 | Kristi Graber | F | 1:46:43 |
| 270 | Brendon Harris | M | 1:50:11 |
| 271 | Gernee Brangman | F | 1:57:35 |
| 272 | George Jones | M | 2:01:30 |
Juniors
| | | | |
| --- | --- | --- | --- |
| 1 | Jayden Ming | M | 8:51 |
| 2 | Ryan Outerbridge | M | 9:03 |
| 3 | Sajan Harvey | M | 9:07 |
| 4 | Quincy Kuzyk | M | 9:08 |
| 5 | Max De Ste Croix | M | 9:08 |
| 6 | Iziah Tucker | M | 9:25 |
| 7 | Daniel Cook | M | 9:29 |
| 8 | Tommy Marshall | M | 9:30 |
| 9 | Cameron De Ste Croix | M | 9:35 |
| 10 | Ada M Larson | M | 9:37 |
| 11 | Lynsey Palmer | F | 9:42 |
| 12 | Sean Tucker | M | 9:51 |
| 13 | Daniel Larson | M | 9:59 |
| 14 | Yari Tucker | M | 10:00 |
| 15 | Alexander Southern | M | 10:07 |
| 16 | Jessie Marshall | F | 10:14 |
| 17 | Rudi Hammond | M | 10:26 |
| 18 | Ada M McDonald | M | 10:26 |
| 19 | Giovannni Hollis | M | 10:31 |
| 20 | Jade Johnston | F | 10:32 |
| 21 | Jayson Simons | M | 10:33 |
| 22 | Robert Thomas | M | 10:41 |
| 23 | Jake Brislane | M | 10:42 |
| 24 | Cody Robinson | M | 10:43 |
| 25 | Ajani Burchall | M | 10:53 |
| 26 | Torque Outerbridge | M | 10:53 |
| 27 | Dequan Trott | M | 11:00 |
| 28 | Trent Harris | M | 11:08 |
| 29 | Asia-Leigh Hollis | F | 11:25 |
| 30 | Eddie Norman | M | 11:40 |
| 31 | Louis Hammond | M | 11:41 |
| 32 | Zahra Wilson | F | 11:42 |
| 33 | Rian Geraghty McDonnell | M | 11:42 |
| 34 | Jackson McDonald | M | 11:44 |
| 35 | Kimora Rubaine | F | 11:47 |
| 36 | Allan Martin Jr | M | 11:52 |
| 37 | Amber Simons | F | 11:54 |
| 38 | Myeisha Sharrieff | F | 11:56 |
| 39 | Brianna Mawer | F | 11:56 |
| 40 | Aaliyah Simons | F | 12:01 |
| 41 | Kerry Palmer | F | 12:02 |
| 42 | Megan Hands | F | 12:15 |
| 43 | Naziah Robinson | F | 12:16 |
| 44 | Leo Foster | M | 12:17 |
| 45 | Liana Medeiros | F | 12:17 |
| 46 | Camille Chin-Gurret | F | 12:28 |
| 47 | Eliza Withers-Clarke | F | 12:30 |
| 48 | Fiachra McDonnell | M | 12:30 |
| 49 | Luke Foster | M | 12:41 |
| 50 | Brian Desmond | M | 12:51 |
| 51 | Tayla Horan | F | 12:55 |
| 52 | Flynn Watson-Brown | M | 13:44 |
| 53 | Daria Desmond | F | 15:00 |
Walkers
| | | | |
| --- | --- | --- | --- |
| 1 | Howard Williams | M | 1:19:24 |
| 2 | Andrea Bolley | F | 1:20:27 |
| 3 | Sinclair Smith | M | 1:22:19 |
| 4 | Gary Young | M | 1:22:40 |
| 5 | Sheena Young | F | 1:24:52 |
| 6 | Junior Watts | M | 1:26:23 |
| 7 | Gina Bradshaw | F | 1:27:37 |
| 8 | Gilda Cann | F | 1:30:47 |
| 9 | Lauretta Stoneham | F | 1:31:43 |
| 10 | Annika Kuruvilla | F | 1:31:44 |
| 11 | Celia Harris | F | 1:32:53 |
| 12 | Mariae C Dixon | F | 1:35:31 |
| 13 | Jennifer Jones | F | 1:36:13 |
| 14 | Carolyn Binns | F | 1:38:11 |
| 15 | Rebecca Scholeler | F | 1:43:04 |
| 16 | Bex Jewell | F | 1:43:07 |
| 17 | Altoinette Wilson | F | 1:43:47 |
| 18 | Alsha Wilson | F | 1:43:52 |
| 19 | Jackie Dedman | F | 1:44:06 |
| 20 | Tamara Philipp | F | 1:45:10 |
| 21 | Richard Dedman | M | 1:45:48 |
| 22 | Hayley Walton | F | 1:45:55 |
| 23 | Kortny Wiebe | F | 1:46:07 |
| 24 | Steph Cracknall | F | 1:46:09 |
| 25 | Helen Scott | F | 1:46:09 |
| 26 | June Tucker-Gordon | F | 1:46:57 |
| 27 | Josh Ball | M | 1:48:44 |
| 28 | Rachel Ball | F | 1:48:46 |
| 29 | Keawin Saldua | M | 1:49:10 |
| 30 | Ken Sharp | M | 1:49:27 |
| 31 | Sue Sharp | F | 1:49:27 |
| 32 | Rachael Plumridge | F | 1:49:29 |
| 33 | Kathy Bean-Lewis | F | 1:52:13 |
| 34 | Noula Contibas | F | 1:52:52 |
| 35 | MaryLeigh Burnett | F | 1:52:52 |
| 36 | Sarah Medeiros | F | 1:52:57 |
| 37 | Aisha Robinson | F | 1:53:24 |
| 38 | Daymel Simons | M | 1:53:24 |
| 39 | Joyanne Rolph | F | 1:56:21 |
| 40 | Kathleen Lied | F | 1:56:22 |
| 41 | Tony Steelf | M | 1:56:39 |
| 42 | Billy West | M | 1:56:56 |
| 43 | Jairzinho Warren | M | 1:57:00 |
| 44 | James Tucker | M | 1:57:16 |
| 45 | Dan Tucker | M | 1:57:17 |
| 46 | Donna Dean | F | 2:00:11 |
| 47 | Andrew Hook | M | 2:00:55 |
| 48 | Christina Swan | F | 2:00:59 |
| 49 | Jessica Grobbelaar | F | 2:01:00 |
| 50 | Magda Szalapak | F | 2:02:06 |
| 51 | Karen Peckett | F | 2:02:07 |
| 52 | James Dowling | M | 2:02:08 |
| 53 | Udene Uys | F | 2:02:30 |
| 54 | Alberta Dyer Tucker | F | 2:02:37 |
| 55 | Lenora Maloney | F | 2:02:37 |
| 56 | DY-JUAN DEROZA | F | 2:07:26 |
| 57 | Jovan Trott | M | 2:09:12 |
| 58 | Helen Hornett | F | 2:11:45 |
| 59 | Rikki Hornett | M | 2:11:45 |
| 60 | Leona Lik | F | 2:11:45 |
| 61 | April Andruczyk | F | 2:11:45 |
| 62 | Selange Gitschner | F | 2:12:57 |
| 63 | Alet Coetzee | F | 2:13:02 |
| 64 | Kelvin Aming | M | 2:13:03 |
| 65 | Zalika Furbert | F | 2:15:08 |
| 66 | Mika Burgess | F | 2:15:19 |
| 67 | Juliette Lawrence | F | 2:15:19 |
| 68 | Stephanie Douglas | F | 2:15:22 |
| 69 | Keitha Hodgson | F | 2:21:41 |
| 70 | Angelica Marshall | F | 2:21:52 |
| 71 | Nicole Aubrey | F | 2:27:36 |
Read More About