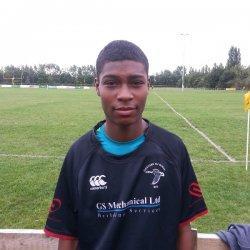 The Gosford All Blacks rugby team in the United Kingdom will be renaming their Young Player of the Year award to honour the late Stephen Edwards, who was the last person to win the award.
Mr. Edwards, 19, died following a serious motorcycle collision that occurred on December 30, 2014.
A successful young man both academically and athletically, Mr. Edwards was an honour student at Berkeley Institute, received a scholarship to study law, was a former captain of the Bermuda National U18 sevens rugby team, as well as receiving the 'Gosford Young Player of the Year Award' in the UK.
The Oxford Mail reports that Gosford captain Andy Simms said, "Stephen was very talented and he had the whole world in front of him. He was undoubtedly the nicest kid I've ever met. He wouldn't say boo to a goose.
"The outpouring of emotion that we have had since New Year's Eve says how much he meant to us. It's still not easy to talk about. We'll never forget him and what he brought to his club."
The team began their their first league match of 2015 in sombre silence in memory of Mr. Edwards, with players observing a minute's silence on Saturday before the match got underway.
Captain Simms said, "There's no better way of respecting him than going out there and doing what he loved. To lose someone who was such a big part of what this club did last season was a big blow and a bitter way to start 2015."
Gosford Head coach Matt Watts said: "It was really hard trying to talk to the team and keep your head in the strategy for the game when your thoughts were obviously with him. It was very emotional and very difficult."
The Bermuda rugby community has also marked Mr. Edwards passing, with his teammates, friends and family gathering at the Somersfield Academy School field on January 1st for a rugby match in his honour.
Read More About