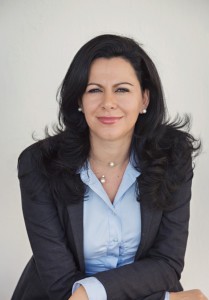 Sequant Re — a Bermuda-based, global reinsurance company — announced that Lola Myshketa, former Head of Asset Management of Bermuda Commercial Bank, has been appointed as Executive Vice President to lead the capital raising and business development activities for Sequant Re.
Ms. Myshketa's appointment follows Sequant Re's launch in December 2014. Sequant Re's strategy involves combining Insurance-Linked Securities ["ILS"] and Bermuda's unique segregated account structure to offer a flexible and highly efficient platform for the transfer and securitisation of insurance risks.
"We are extremely pleased to welcome Lola to the team," said Sequant CEO and Founder, Guy Cloutier. "Lola's experience in capital markets, her talent and energy will be great assets to Sequant Re. As a key member of the executive team, she will play an instrumental role in shaping the future of the Company."
"I am delighted to have the opportunity to join Sequant Re's operation," said Ms. Myshketa. "Guy and David have outstanding reputations and an enviable roster of connections in the re/insurance, capital markets and financial modelling industries. I am eager to build on this impressive foundation, but more importantly, I am thrilled to be part of a business model that has investors' interests at heart."
Ms. Myshketa brings to the team 17 years of successful international experience in investments and capital markets. Her areas of expertise include strategy, business development and sales leadership.
Prior to moving to Bermuda to lead the startup and the development of the Asset Management offering for the Bermuda Commercial Bank [BCB], she held senior positions in the Canadian private financial sector, where she specialised in alternative investments and was very successful in raising capital and building investors' awareness around alternative strategies. Prior to that she held various roles within the CIBC Group of companies, managing the financial affairs of High Net Worth individuals.
During her professional career, Ms. Myshketa has been awarded a number of certificates and diplomas. She holds a Master of Business Administration [MBA] degree from Bocconi University, Milan, Italy, where she majored in Banking and Finance and graduated as valedictorian, and a Financial Management Advisor [FMA] designation from the Canadian Securities Institute.
Read More About