BIFF today [Mar 17] revealed the addition of two new films to the lineup for the upcoming festival, which is set to open on Friday, March 20, 2015.
The two newly announced films include "sumptuous film-noir melodrama" Phoenix, which will screen on Monday, March 23 at 6.00pm, and documentary When Elephants Fight, which will screen on Wednesday, March 25 at 6.00pm.
A spokesperson said, "BIFF has been granted special presentation rights to the documentary When Elephants Fight, which became a reality thanks to a group of Bermuda investors.
"Director Mike Ramsdell of Under The Hood Productions first visited Bermuda to deliver a TEDx talk in 2011 about the use of art as activism. He spoke of the conflict minerals atrocities in the Democratic Republic of Congo, which has taken the lives of six million people since 1996.
"Several members of the audience were so inspired by his words that they pledged their financial support for the production of a film to raise awareness of this issue. Mike then teamed up with Kim Carter, TEDx Bermuda board member, as his co-producer to bring the project to fruition."
Mr. Ramsdell said, "My connection to Bermuda is a serendipitous one as this film was given life here. It says a lot about Bermuda's people that my investors could find it in their hearts to care so much about something that is happening thousands of miles away."
Director Mike Ramsdell delivering his TedXBermuda talk: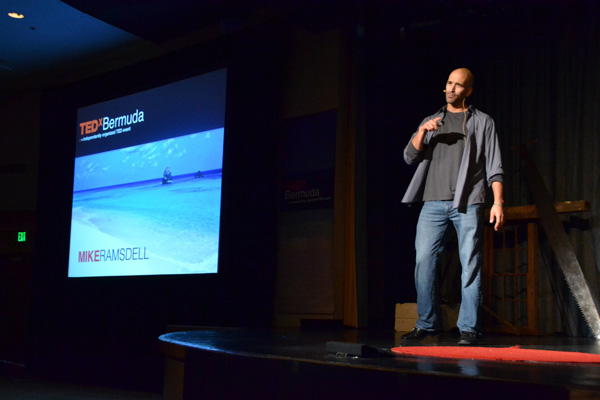 "What is going on in the Congo is totally scandalous. It is a place abundant in natural resources including diamonds, uranium, natural gas, oil, rare woods, and the so-called conflict minerals – tungsten, tin, tantalum, and gold. Because these resources are so valuable, rebel groups and corrupt military leaders use abhorrent tactics such as slavery, rape, murder, and robbery to control them.
"They then profit by millions of dollars by selling these minerals into the international market – from where they eventually wind up in our electronic devices.
"I believe that film is the most powerful means of communication and it is my hope that When Elephants Fight will heighten this issue on the political agenda and go some way to tackling the horror that is ongoing in the Congo."
"Mr. Ramsdell will be travelling to Bermuda for the screening and hopes to visit several schools next week to further increase the profile of the film on the island that made it.
"The film, which is narrated by Hollywood name Robin Wright and lists established talents David Gordon Green and Lisa Muskat as executive producers, will screen on Wednesday, March 25 at 6.00pm.
"Another exciting new feature to join the world cinema lineup is the critically-acclaimed Phoenix, which BIFF was granted permission to screen just last week and couldn't turn down."
Official 'Phoenix' trailer:
"Described as a sumptuous film-noir melodrama by Variety magazine, Phoenix follows the story of Nelly Lenz, a disfigured concentration camp survivor, unrecognisable after facial reconstruction surgery.
"She desperately searches ravaged post-war Berlin for her husband who might have betrayed her for the Nazis. When she finds him, their relationship is far from what it once was."
"This film drew much praise from audiences at both Toronto and London film festivals where it first screened last fall.
Phoenix, which is in German with English subtitles, will be shown on Monday, March 23 at 6.00pm.
"Tickets can now be purchased for all BIFF 2015 films from the online box office at ptix.bm. Tickets will also be available an hour in advance of each screening at Liberty Theatre, subject to availability. World Cinema and Special Presentation tickets are priced $15."
Read More About
Category: All, Entertainment, Films/Movies