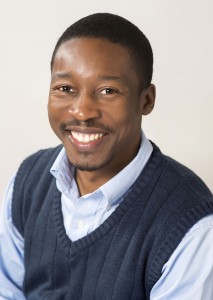 The Duperreault Fellowship today [Apr 6] invites residents working or studying in the field of substance abuse to apply for funding in support of their continued professional development.
The Duperreault Fellowship is an endowment fund established in 2004 when a $500,000 donation contributed by insurance veteran Brian Duperreault and his wife, Nancy, was supported by a $1 million donation from The ACE Foundation. Its purpose is to enhance the professional services provided in Bermuda.
"Since its inception, The Duperreault Fellowship has supported the professional development of eight therapists and clinicians," a spokesperson said.
"Last year's recipient, Pete Saunders [pictured], is currently studying for his doctorate in Human Development at Fielding Graduate University.
"Mr. Saunders is exploring how men, beginning with black men in Bermuda, might transcend disempowering narratives and ways of being. He is interested in men's development, community transformation and ontological coaching.
"To facilitate the application process, the Trustees of The Duperreault Fellowship have established a website at www.duperreaultfellowship.org. The site includes application forms, information about the Fellowship and its Fellows, and an overview of the application process."
"We are very proud of the manner in which Duperreault Fellows are contributing to the health and well-being of the Bermuda community," said Fellowship Chair Katherine Watson.
"The men and women who have dedicated themselves to addressing the scourge of substance abuse have Bermuda's best interests at heart, and it is an honour and a pleasure to have enabled their careers in this regard.
"We invite the community to visit our new website and read about our Fellows. They are applying their skills and knowledge in broad and diverse ways, reflecting the variety of methods by which substance abuse education, rehabilitation and treatment programmes can be implemented in the community."
Mrs. Watson noted that Mr. George Botelho of Advanced Services donated time and resources to design and construct the Fellowship's new website, saying: "George and the team at Advanced Services have developed an attractive, user-friendly site that also streamlines our application process. Their generosity is most appreciated."
Mrs. Watson noted that the closing date for applications for funding from The Duperreault Fellowship is Thursday, April 30, 2015.
More information about The Duperreault Fellowship is available at www.duperreaultfellowship.org.
Read More About