[Updated] At sometime around 7.00pm this evening [June 13] emergency personnel responded to the Church Street area of Hamilton after a man was found injured in the area. We understand the man was found injured in the ground on Church Street outside City Hall, and an ambulance and the police were called.
Unofficial reports suggest the man may have what appeared to be stab wounds. Further details are limited at this time, however we will update as able.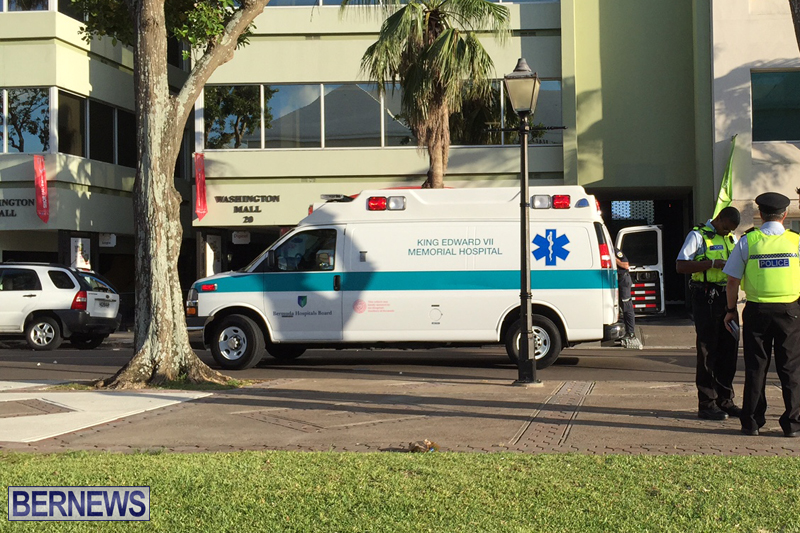 Update 9.48pm: The police said a 54-year-old man was stabbed and another man has been arrested in connection.
A police spokesperson said, "At a few minutes after 5pm, Police responded to a report of an incident that took place on Church Street in the area of City Hall.
"It appears that two males got into an altercation resulting in one of those males brandishing a bladed article and stabbing a 54 year old man.
"The victim was taken to the hospital, where he was treated for injuries which are not believed to be life threatening. Meanwhile, the suspect, after the stabbing, made good his escape in the area.
"He, however was apprehended a few minutes later outside of the National Library on Queen Street and was subsequently arrested and taken to Hamilton Police Station where he was detained.
"An investigation is under way and anyone with information is asked to contact Bermuda Police Service on 295-0011."
Update June 14, 3.05pm: The police amended the time of the incident to 7.00pm.
Read More About