[Written by Don Burgess]
Striker Nahki Wells had his ankle wrapped as he watched his teammates prepare for Friday's [June 5] friendly match against Puerto Rico.
He may end up watching them from the sidelines on Friday as well if it doesn't heal.
Wells told Bernews "I'm struggling. I don't really want to expose too much with regard to my ankle. It's touch-and-go for the weekend."
With two World Cup Qualifiers against Guatemala in the middle of the month, the safe play may be to hold Wells out and let it heal fully prior to the more important matches.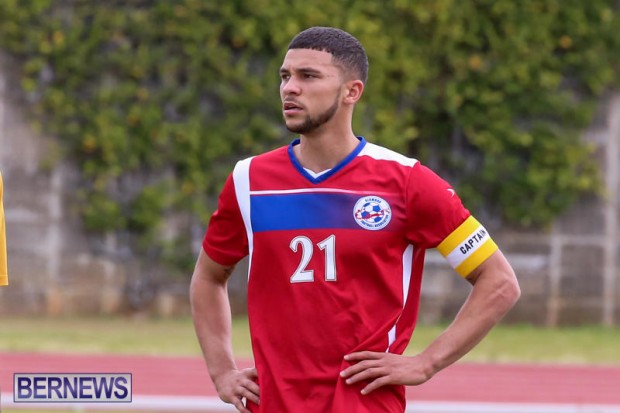 Even so, Wells had full confidence in his teammates' ability to get the job done on Friday night.
"We have a lot of young players who are hungry to do well and are willing to put in the work to represent their country. We have a manager [Andrew Bascome] who has a lot of love for the game and always wants to do well. And when you put those together, this squad is the best it's ever been since I've worked with the National Team. It should breed success."
Wells said one of the benefits of this squad being so young, is that most of them are going to be around for the next World Cup campaign too.
The Huddersfield pro said a result would be great against Puerto Rico, but he is most interested in seeing the performance take a step up.
"Coming into the Qualifiers, if we've gotten a lot out of this game on Friday, we go into those on a positive note, but if you play well, you get a result."
Audio of Nahki Wells after Bermuda's 3-0 defeat of the Bahamas in March 2015
He urged fans to be their 12th man again, like they were against the Bahamas.
"Come watch us prepare for one of the biggest games for some of the players' careers. There's a lot at stake so come out and support us. It's not the main game, but its prep for it so come support us ahead of the big one."
Bermuda plays Puerto Rico on Friday, June 5 at 7:30pm the National Sports Centre.
Read More About