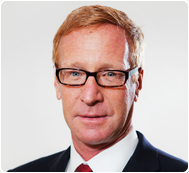 The Bermuda Convergence 2015 will be held November 11–13, at Pier 6 in Hamilton, Bermuda.
The newly expanded steering committee of ILS Bermuda Ltd. has been busy planning the event which is expected to attract more than 300 delegates from around the world.
Last November, the Bermuda Convergence 2014 event was hailed a major success, drawing more than 300 delegates from 13 different countries around the world, including Australia, Canada, Cayman Islands, Finland, France, Germany, Hong Kong, Ireland, South Africa, Switzerland and the USA.
Greg Wojciechowski [pictured], CEO, Bermuda Stock Exchange, and ILS Bermuda Chairman, said: "On behalf of ILS Bermuda, I am delighted to announce that registration for Bermuda Convergence 2015 is now open.
"The ILS Bermuda team has been expanded this year with a view to continuing and enhancing the Bermuda Convergence networking event, while concentrating on developing additional business development initiatives domestically and abroad."
"The members of ILS Bermuda look forward to welcoming our industry friends and colleagues back to Bermuda to join us in November. The team is creating a schedule that will offer compelling information exchange, an event platform for business development networking, and social events designed for continued networking.
"With the UK announcing its desired intention to be more active in the ILS market, the positive growth results we see year-on-year and the current M&A activity, we believe there is no shortage of interesting topics to discuss at Convergence 2015."
"I am pleased to report that the Bermuda Business Development Agency [BDA] will once again be a lead supporter of this important industry event and that sponsorship and delegate interest is robust."
"This year, we are including a series of short talks from a number of leading scientists across the industry modelled on the popular 'TEDx' format," said Adam Alvarez, Principle of InsuranceLinked.com, and a member of the ILS Bermuda committee. "As the industry evolves, ILS Bermuda will continue to be a leading source of information and analysis."
Last year saw Bermuda strengthen its position as the leading jurisdiction within the ILS market. The Bermuda Monetary Authority [BMA] reported 89 new insurance entities registered in Bermuda in 2014. Since 2010, the BMA has licensed 144 SPIs.
Chart provided: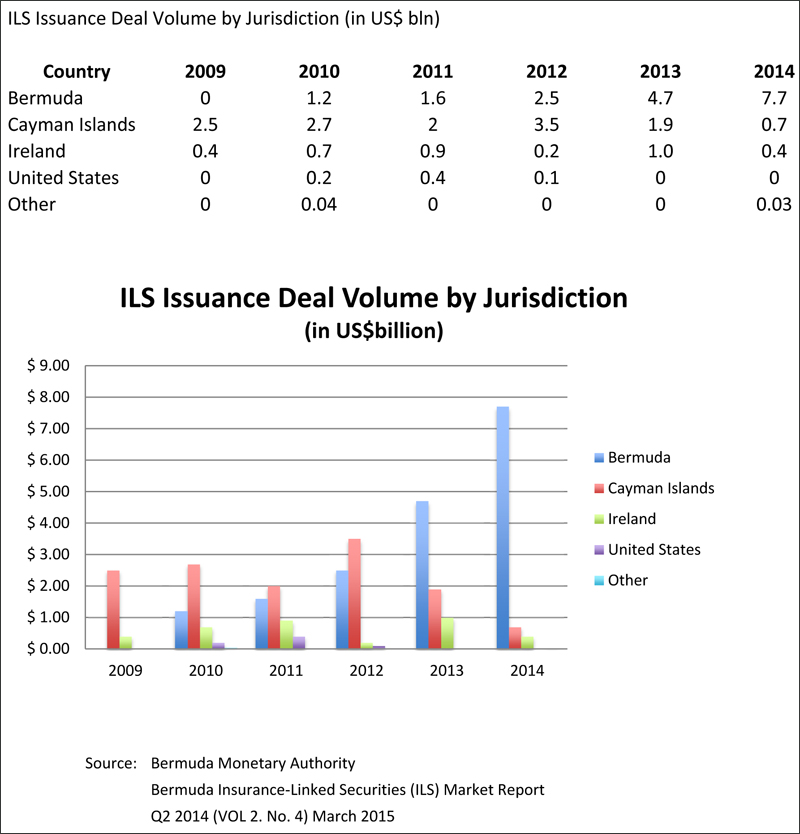 In its Q1 2015 Bermuda ILS Market Report, the BMA noted that Bermuda strengthened its position as the leading jurisdiction within the ILS market in 2014. This is both in terms of the number of deals issued and total issuance volume.
ILS issuance in the first quarter of 2015 increased 27 percent when compared to activity during the same period last year—making it the most active Q1 on record. Bermuda-domiciled companies increased the volume of ILS issued by 29 percent in the first quarter of 2015, compared to the same period in 2014.
In its latest Reinsurance Market Outlook report, Aon Benfield stated: "Investors continue to show broad interest in insurance linked securities, however, asset managers are demonstrating discipline in their capital deployment." The report showed the growth in alternative capital outpacing the growth in global insurer capital, which grew at three percent and one percent respectively since year-end 2014.
Willis Re noted in its latest 1st View reinsurance report that "investor capital continues to be attracted to the sector, with some of the ILS funds backing collateralized re, catastrophe bonds and other solutions showing year-on-year growth."
At the end of June 2015, the Bermuda Stock Exchange [BSX] saw total volume of insurance-linked listings, including catastrophe bonds, insurance-linked securities and reinsurance-linked investment funds on the exchange surpass $17 billion, which represents 67 percent of global issuance.
Noted Wojciechowski: "Bermuda's leadership position has strengthened in 2014 and the first half of 2015, through the success of the annual ILS Bermuda Convergence event that brought to the Island professionals looking to do business here. We look forward to welcoming them back for the third year of this innovative event."
Read More About