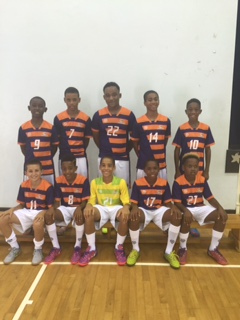 CP Athletic Development [CPAD] is getting set to cap off a productive summer program with a trip to Orlando, Florida to participate in the boys World Futsal Championship tournament.
A spokesperson said, "Months of preparation will be put to the test for a talented team who will play against older challengers as part of CPADs' philosophy of development.
"This journey has created additional excitement as senior member Sareiko Thomas has been invited to participate in the Professional Futsal League combine by Commissioner Keith Tozer.
"This followed an invitation received by CPAD President, Coach Peter Rickards to join the coaching team for the Professional Futsal League combine event."
Coach Rickards said, "Our members are thrilled to be participating in the tournament which features teams from around the globe.
"Additionally, the Professional Futsal League is an adult league that is set to take the US by storm. I am humbled to have been invited to play a key role is the combine event to select talent to play Futsal at a professional level.
"To play a part in the formation of the league will allow me to progress even further as a coach and bring back the knowledge to my organization", states Coach Pete. We're excited to be resuming our full slate of male and female Futsal and golf programs in September.
"CPAD's ultimate goal is to guide their members on to higher education, creating opportunities for scholarships in the process. CP Athletic Development Academy is a registered charity."
For further information, contact cpathleticdevelopment@gmail.com or 533-7383.

Read More About